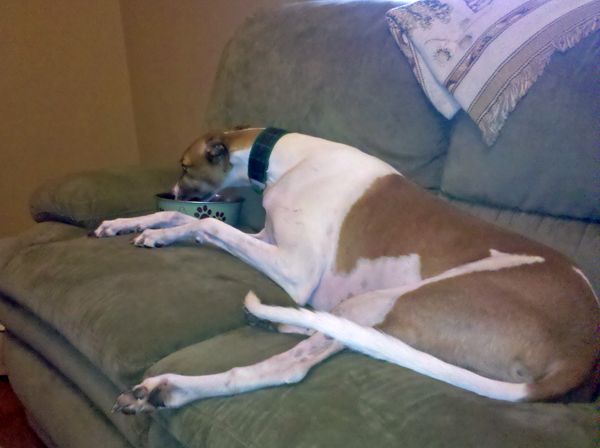 Lord Dudlington takes his breakfast on the settee.
Dudley—who, as previously documented, is One of Those Dogs who constantly has to be taken to the vet for
something,
whether it's
eyeball drama
or
butt hullabaloo
—was limping pitiably this weekend after hurting his front left paw while zooming around the backyard. Now, Dudz routinely tears his paws to pieces, because he is not only a beastie capable of running 45mph but also a total glaik, so we're used to cleaning cuts and removing thorns and not getting totally alarmed every time he has a little limp. But this was a serious limp, and we feared a broken or dislocated toe (to which greys are prone), so it was off to the vet. Again.
Luckily for Dudz (and us), it was not a broken toe; it's merely the equivalent of a sprained ankle. So he's been prescribed an anti-inflammatory and bed rest.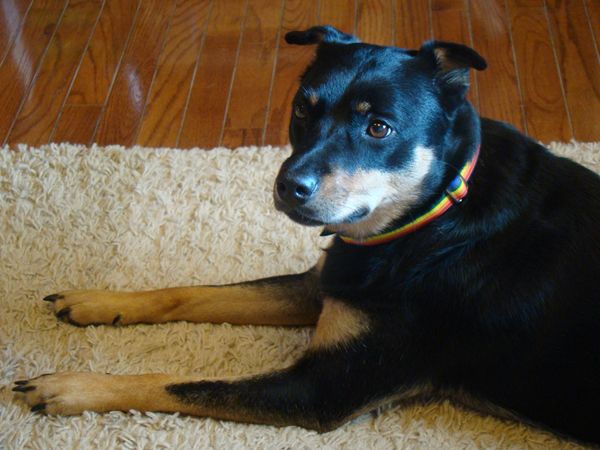 Zelda keeps watch on the floor in front of the settee: "I got this."
Trying to keep Dudz and Zelly from playing together is the hardest part, although I shan't complain about having two playful dogs who love each other.
At the animal clinic, the vet noticed that Dudley had some bruising on his belly and the inside of his back legs, easily noticeable since those areas are pink and hairless. "Um, that's where our other dog bumps him with her head when she runs underneath him," I told the vet. "It's, like, the best game ever." The vet and the vet tech laughed.
Of course it is.
Yesterday, after we got home, I was watching
Animal Cops: Phoenix
and a mixed-breed dog that clearly had greyhound in him whimpered onscreen. Zel almost never reacts to anything on the television, but that greyhoundy whimper sent her tearing up the stairs to the loft where Dudley was resting, to make sure he was okay.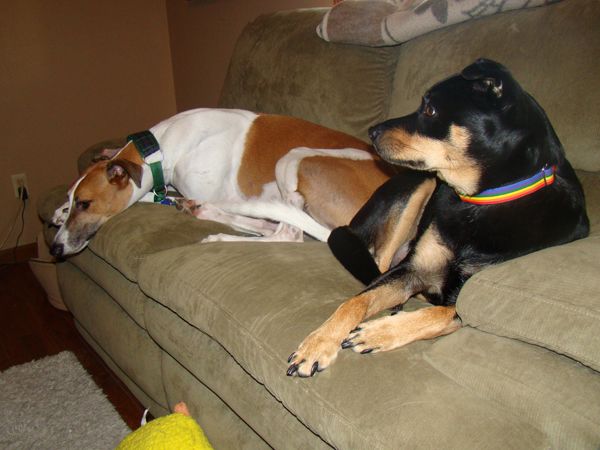 "Let me know if you need anything, buddy." BFFs.