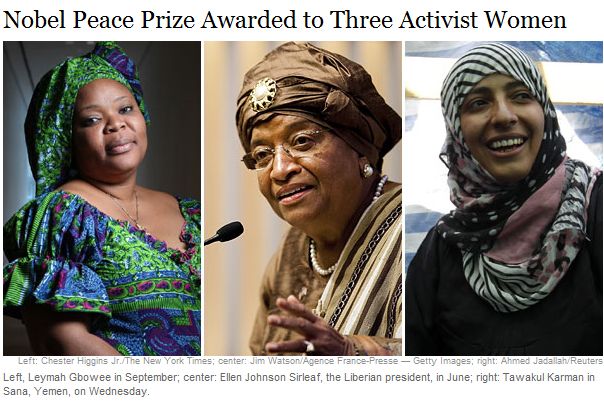 The Nobel Peace Prize for 2011 was awarded on Friday to three campaigning women from Africa and the Arab world in acknowledgment of their nonviolent role in promoting peace, democracy and gender equality. The winners were Liberian President Ellen Johnson Sirleaf — Africa's first elected female president — her compatriot, peace activist Leymah Gbowee and Tawakul Karman of Yemen, a pro-democracy campaigner.

They were the first women to win the prize since Kenya's Wangari Maathai, who died last month, was named as the laureate in 2004.

Most of the recipients in the award's 110-year history have been men and Friday's decision seemed designed to give impetus to the cause for women's rights around the world.

"We cannot achieve democracy and lasting peace in the world unless women obtain the same opportunities as men to influence developments at all levels of society," said the citation read by Thorbjorn Jagland, a former Norwegian prime minister who heads the Oslo-based Nobel committee that chooses the winner of the $1.5 million prize.

In a subsequent interview, he described the prize as "a very important signal to women all over the world." (Link)
But not an important signal to men...?
Interesting, that.