Here's some of what I've been reading this morning...
Nicholas Kristof in the
New York Times
—
America's 'Primal Scream'
:
It's fascinating that many Americans intuitively understood the outrage and frustration that drove Egyptians to protest at Tahrir Square, but don't comprehend similar resentments that drive disgruntled fellow citizens to "occupy Wall Street."

There are differences, of course... Yet my interviews with protesters in Manhattan's Zuccotti Park seemed to rhyme with my interviews in Tahrir earlier this year. There's a parallel sense that the political/economic system is tilted against the 99 percent. Al Gore, who supports the Wall Street protests, described them perfectly as a "primal scream of democracy."

The frustration in America isn't so much with inequality in the political and legal worlds, as it was in Arab countries, although those are concerns too. Here the critical issue is economic inequity. According to the C.I.A.'s own ranking of countries by income inequality, the United States is more unequal a society than either Tunisia or Egypt.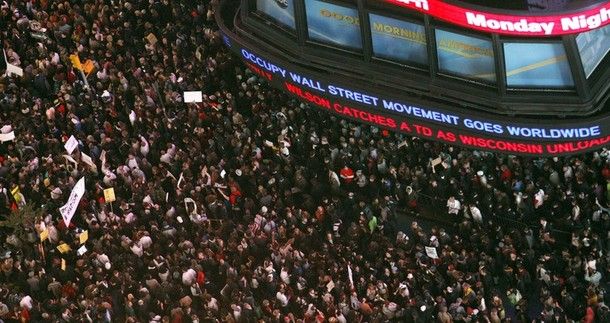 Thousands of anti-Wall Street protesters rallied in New York's Times Square on Saturday, October 15, 2011, buoyed by a global day of demonstrations in support of their monthlong campaign against corporate greed. [Reuters Pictures]
The
Guardian
's coverage of the march on Times Square is
here
.
Wall Street Journal
—
74 Arrested as Protesters 'Occupy' Times Square
:
Thousands of anti-corporate protesters marched Saturday from New York City's Financial District to Times Square in a show of force that resulted in 74 arrests, authorities said.

Holding signs reading "debt is slavery," "in a gentle way you can change the world," and "We are not anonymous," the protesters stopped traffic in busy Midtown Manhattan streets and provided a new spectacle for tourists and New Yorkers amid the bustle of iconic Times Square. It was one of the largest demonstrations yet from the Occupy Wall Street movement, which has camped out in a Lower Manhattan park since Sept. 17 to protest finance industry bailouts, unemployment and income inequality.
I could not agree more with the need to radically challenge the systemic injustice of the US economy. I could not agree less with the assertion that "debt is slavery." No. It's just
really fucking not.
Meanwhile, in Chicago...
Chicago Tribune
—175 Chicago protesters arrested after being told to leave Grant Park: "Chicago police arrested about 175 Occupy Chicago protestors in Congress Plaza just after 1 a.m. Sunday, about 90 minutes after police issued their first warning that the group was violating municipal code. Police completed the last arrests and cleared the plaza of protesters at 3:30 am, more than two hours after arrests began. Officers individually approached protesters, who had formed a human chain and sat on the ground, to give them the option to leave the park voluntarily or be arrested. As of 1:30 a.m., at least 50 protesters had been hauled away, while about 150 others stood and continued their demonstrations from across the street on Michigan Avenue."
And elsewhere...
Reuters—
Wall Street protests go global; riots in Rome
: "Anti-greed protesters rallied globally on Saturday, denouncing bankers and politicians over the international economic crisis, with violence rocking Rome where cars were torched and bank windows smashed. Galvanized by the Occupy Wall Street movement, protests began in New Zealand, touched parts of Asia, spread to Europe, and resumed at their starting point in New York with 5,000 marchers decrying corporate greed and economic inequality."
Washington Post
—
Occupy Wall Street protests go global
: "Rallies were held in more than 900 cities in Europe, Africa and Asia, as well as in the United States, with some of the largest occurring in Europe. The demonstration in Rome turned violent, and more than 70 people were arrested in Manhattan on Saturday night, but crowds elsewhere were largely peaceful. 'What's exciting about what's happening is a sense of international solidarity,' said Ben Walker, 33, a university teacher from Norwich, England, who was carrying a tent and planning on camping overnight near the London Stock Exchange."
And in the White House...
Business Insider
—White House Draws Closer to Occupy Wall Street, Says Obama Is Fighting for the Interests of the 99%:
In a call previewing Obama's upcoming bus tour through North Carolina and Virginia, White House spokesman Josh Earnest said Obama "will continue to acknowledge the frustration that he himself shares," about Washington's laggard response to the financial crisis.

Earnest added that while on the trip, Obama will make it clear that he is fighting to make certain that the "interests of 99 percent of Americans are well represented" — the first time the White House has used the term to differentiate the vast majority of Americans from the wealthy.
Great. I'm looking forward to that.
Hey, one way to show that solidarity might be to tell the FBI to stop
working with a rightwing hacker to monitor and discredit the movement
. Just a thought!
Also see: Glenn Greenwald:
What are those OWS people so angry about?