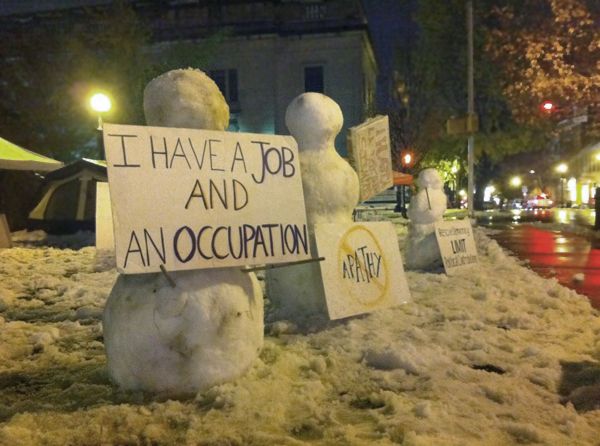 At Occupy Lancaster, one of the many smaller protests around the country, demonstrators held fast despite the unseasonably early snowfall by making snowpeople to hold their signs while they tried to stay warm in tents overnight. [Thanks to Shaker Eccaba.]
Here's some of what I've been reading this morning...
Detroit Free Press
—
Veteran hit in head expected to recover
:
An Iraq war veteran badly injured when police stormed an Occupy Oakland encampment last week is expected to make a full recovery, his roommate said Sunday.

Scott Olsen, 24, was hit in the head by a tear-gas canister fired by police trying to control a crowd on Tuesday night, according to witnesses.

Olsen was listed in critical condition at first with damage to the speech center of his brain, according to Olsen's roommate, Keith Shannon.

Although Olsen remained hospitalized Sunday and was not able to speak, doctors expect a full recovery, Shannon said.

Olsen's condition Sunday was listed as fair.
LA Times
—
Occupy Wall Street braces for winter
:
Organizers have predicted the freezing temperatures and snow would reduce the Lower Manhattan encampment to a small assemblage through winter.

"But that's OK with us," said Richmond, 26, a carpenter from upstate New York. "The hardy will stay. The junkies will go. And in the spring all somebody has to do is declare Occupy Central Park or Occupy Union Square and everyone will return. This was just practice."

...It's also clear [authorities] don't want the demonstrators to get too comfortable.

City fire and police officials on Friday confiscated gas tanks and half a dozen generators being used for electricity in the makeshift kitchen and for media equipment. Mayor Michael R. Bloomberg had declared them a safety hazard. Organizers were baffled; they said fire marshals had inspected the park the day before and hadn't mentioned any violations.
ABC News—
Occupy Veterans Movement Growing across US
:
Since Occupy Wall Street protests have broken out in cities across the U.S. and abroad, support has come from what might seem like an unlikely corner: war veterans.

"For veterans especially, health care is paramount, yet is always on the table to be cut," [veteran and organizer Paige Jenkins] said in an interview with ABC News. "Vets in this movement don't want to fight anymore. We want to make peace and live peaceably. We shouldn't have to fight for our benefits, and if vets are fighting for their benefits then it can't be any better for nonvets. ... What do you think is going to happen in 2012 after everyone gets home from Iraq? No jobs, no benefits. This will not be a good scene."

...Another group that called itself Occupy Marine Corps recently posted on its Facebook page advise about how to protest in winter weather. According to a Tweet by @Kruggurl, Occupy Marine Corps has offered protesters supplies for the winter.

"We are a collection of prior service Marines intent on protecting American citizens and their ability to exercise their First Amendment rights," a spokesperson for the group said.
In other Occupy Movement news, smaller protests, like the one in Lancaster County, are starting to get more media—and police—attention...
Chicago Tribune
—
Occupy Wall Street spinoff pickets Niles (MI) City Hall
.
AP—
Police break up Occupy Wall St. camp in Richmond
.
Reuters—
Occupy Wall Street arrests in Texas and Oregon
.
The Hill—Fears about inequality in income grow: "Two-thirds of likely voters say the American middle class is shrinking, and 55 percent believe income inequality has become a big problem for the country, according to this week's The Hill Poll. ... Majorities across practically all income levels, and all political, philosophical and racial lines agreed that the middle class is being reduced, while the bulk of respondents in each category thought income inequality was at least a moderate concern."

The New York Times—As Meeting Approaches, Fed Panel Is Divided on Direction: "When the Federal Reserve's policy-making committee meets on Tuesday and Wednesday, 5 of the 10 voting members will arrive in open disagreement with the chairman, Ben S. Bernanke, about the direction of monetary policy. Three conservative members say the Fed has already done too much. Two liberals say the Fed needs to do much more. But it is still the chairman who determines whether the central bank should expand its campaign to stimulate growth for the third time since August, and lately Mr. Bernanke has been focused on an old theme: communicating the benefits of existing policies in order to increase their impact."

Paul Krugman in The New York Times—Bombs, Bridges and Jobs: "What's bringing out the military big spenders is the approaching deadline for the so-called supercommittee to agree on a plan for deficit reduction. If no agreement is reached, this failure is supposed to trigger cuts in the defense budget. Faced with this prospect, Republicans—who normally insist that the government can't create jobs, and who have argued that lower, not higher, federal spending is the key to recovery—have rushed to oppose any cuts in military spending. Why? Because, they say, such cuts would destroy jobs."

HuffPo—GOP Candidates' Plans on Economy, Housing, Challenged by Studies: "'Republicans favor tax cuts for the wealthy and corporations, but these had no stimulative effect during the George W. Bush administration, and there is no reason to believe that more of them will have any today,' writes Bruce Bartlett. He's an economist who worked for Republican congressmen and in the administrations of Presidents Ronald Reagan and George H.W. Bush. As for the idea that cutting regulations will lead to significant job growth, Bartlett said in an interview, 'It's just nonsense. It's just made up.' Government and industry studies support his view."

Meanwhile, in Europe...

AFP—OECD says EU economy set to 'shrink': "Top economies are slowing with the eurozone set to shrink briefly, and rapid action by European leaders to enact promised crisis measures is key to global recovery, the OECD said on Monday. The eurozone should also cut interest rates, and countries with stronger public finances undertake short-term measures to boost growth, the Organisation for Economic Cooperation and Development said."

As always, please feel welcome and encouraged to share links to things you've read or written in comments.