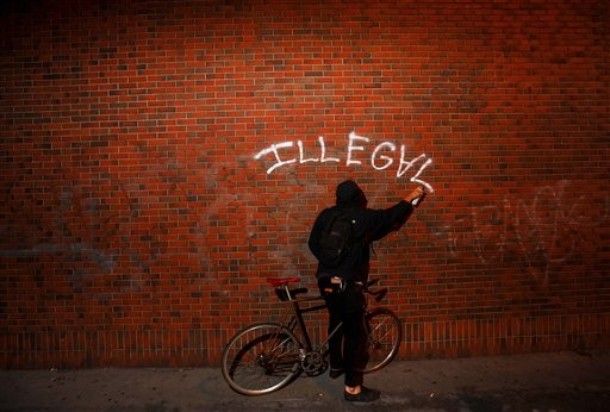 An Occupy Oakland protester spraypaints the side of a building during a march on Wednesday, Oct. 26, 2011, in Oakland, Calif. [AP Photo]
San Francisco Chronicle
—
Iraq vet injured in Oakland in critical condition
:
The most seriously wounded [in the Oakland clash with police] was Scott Olsen, 24, of Daly City, a member of Iraq Veterans Against the War, who was listed in critical condition Wednesday at Highland General Hospital in Oakland.

The antiwar group said Olsen, a systems administrator at a San Francisco software firm, suffered a skull fracture when he was hit by a "blunt object." Olsen joined the U.S. Marines in 2006, served two tours in Iraq, and was discharged in 2010, the group said.

Video footage distributed on the Internet shows a protester, identified by the antiwar group as Olsen, being carried away by others with a head wound. The cause was unclear. While he lay wounded, the footage appears to show an officer tossing something - perhaps a tear gas canister - toward people trying to help him.

"I think it is a sad state of affairs when a Marine can't assemble peacefully in the streets without getting injured," said Jose Sanchez, executive director of Iraq Veterans Against the War.
The
Guardian
—Olsen "has a fractured skull and brain swelling after allegedly being hit by a police projectile."
The Guardian spoke to people with Olsen at the hospital. Adele Carpenter, who knows Olsen through his involvement with anti-war groups, said she arrived at the hospital at 11pm on Tuesday night.

Carpenter said she was told by a doctor at the hospital that Olsen had a skull fracture and was in a "serious but stable" condition. She said he had been sedated and was unconscious.

"I'm just absolutely devastated that someone who did two tours of Iraq and came home safely is now lying in a US hospital because of the domestic police force," Carpenter said.
But don't worry—there's going to be
an investigation
by "Oakland's independent police review body" and I'm sure they'll totally get to the bottom of this is a very responsible way, just like
the jurors in the Oscar Grant trial
. The one thing that definitely helps curb out-of-control police forces is a total lack of accountability.
Here's some of the other stuff I've been reading this morning...

New York Daily News—Occupy Wall Street protesters in NYC proclaim solidarity with demonstrators in Oakland, Atlanta: "Protesters stormed through downtown Manhattan on Wednesday night to proclaim solidarity with fellow demonstrators who were forced out of encampments in Oakland, Calif., and Atlanta, Ga. ... At least 10 people were arrested as the wild mob took to the streets towards Union Square chanting, 'Oakland to NYC, stop police brutality'." (lol your "wild mob.")

Nicholas Kristof in the New York Times—Crony Capitalism Comes Home: "[W]hile alarmists seem to think that the movement is a 'mob' trying to overthrow capitalism, one can make a case that, on the contrary, it highlights the need to restore basic capitalist principles like accountability. To put it another way, this is a chance to save capitalism from crony capitalists."

Richard Wolff in the Guardian—How the 1% got richer, while the 99% got poorer: "The CBO numbers teach some basic lessons. First, the last 30 years of ideological preaching about the superiority of private, deregulated, market-driven capitalism served to enable and mask one of the largest and fastest upward redistributions of income in modern history."

New York Times—Europe Agrees to Basics of Plan to Resolve Euro Crisis: "European leaders, in a significant step toward resolving the euro zone financial crisis, early Thursday morning obtained an agreement from banks to take a 50 percent loss on the face value of their Greek debt. ... The leaders agreed on Wednesday on a plan to force the Continent's banks to raise new capital to insulate them from potential sovereign debt defaults. But there was little detail on how the Europeans would enlarge their bailout fund to achieve their goal of $1.4 trillion to better protect Italy and Spain."

US Department of Commerce, Bureau of Economic Analysis—National Income and Product Accounts: Gross Domestic Product, 3rd quarter 2011: "Real gross domestic product—the output of goods and services produced by labor and property located in the United States—increased at an annual rate of 2.5 percent in the third quarter of 2011 (that is, from the second quarter to the third quarter) according to the 'advance' estimate released by the Bureau of Economic Analysis."

That's an improvement on second quarter numbers, which saw a real GDP increase of 1.3%, and, in a healthy economy, 2.5% growth would be fine, but, during a long and deep recession with high unemployment, we need something a lot more robust than that to achieve meaningful recovery in a reasonable timeframe. Slow growth just means more people fall off the edge.

Speaking of falling off the edge...

Liz Dwyer at Good: What Do Obama's Student Loan Reforms Mean for You? "While the income-based reform is a step in the right direction projected to help around 1.6 million students, Radhika Singh Miller, a program manager for educational debt relief and outreach at the nonprofit Equal Justice Works, notes it will only benefit students who are starting college next year or later. 'For those of us who've already borrowed and are buried in student debt,' she says, the plan offers no help. ... [N]one of the reforms will reduce the total amount you owe, and they won't affect loans borrowed directly from a bank to help with college expenses. 'People still need to be proactive about avoiding those private loans,' she says, because they aren't eligible for income-based repayment plans or consolidation. If you don't, you're really 'at the mercy of a private lenders. All the things you see that come with federal loans—like deferments and forebearance—aren't standard with private loans.' If the Obama Administration put some consumer protections back into the private loan industry, Miller says, that would help millions."

If.

Meanwhile, in GOP Primaryland...

CNN/TIME Poll: Romney Leads Republican Rivals in First Four Primary States. Yikes.

Not that any of the rest of 'em are any better, of course.