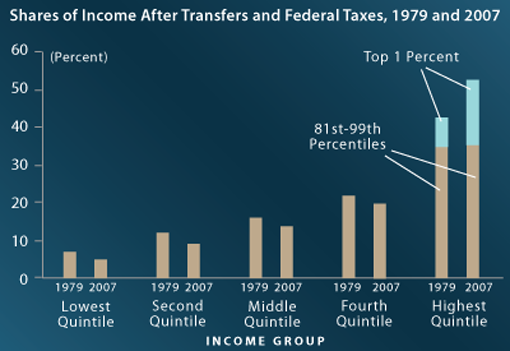 The Congressional Budget Office
has found
that, between 1979 and 2007, income grew by:
● 275 percent for the top 1 percent of households,
● 65 percent for the next 19 percent,
● Just under 40 percent for the next 60 percent, and
● 18 percent for the bottom 20 percent.
Hmm, I wonder
what could have happened
in 1980 to start this deplorable trend...? I guess
it's a mystery
consigned to the mists of the ages!
In addition to after-tax income having grown more for the highest-income households, the CBO also found that market income shifted toward higher-income households, and that government transfers and federal taxes became less redistributive.
In other words, yes, there's class warfare going on all right—but it's the upper classes, with the help of the government, waging war on the lower classes.
Which, of course, everyone with functioning grey matter in their brainpans and a modicum of resolve to embrace facts has already known for quite some time.
Here's some of the other stuff I've been reading this morning...
New York Times—New Poll Finds a Deep Distrust of Government: "With Election Day just over a year away, a deep sense of economic anxiety and doubt about the future hangs over the nation, according to the latest New York Times/CBS News poll, with Americans' distrust of government at its highest level ever. ... Almost half of the public thinks the sentiment at the root of the Occupy movement generally reflects the views of most Americans. With nearly all Americans remaining fearful that the economy is stagnating or deteriorating further, two-thirds of the public said that wealth should be distributed more evenly in the country. Seven in 10 Americans think the policies of Congressional Republicans favor the rich."

Washington Post—European leaders head for financial summit with no solution in sight: "German Chancellor Angela Merkel told her parliament ahead of a key vote on Wednesday that deep changes must be made to Europe's economy if the euro is to hold together as currency. ... But underlining how many issues remain unresolved, Merkel said that she would not commit any more Germany money to supporting Europe. She called for private investors to make a 'large contribution' to ease Greece's debts. European leaders have been frustrated in their efforts to craft a response to the continent's debt crisis by Wednesday's self-imposed deadline. In Italy, meanwhile, a political stalemate in Italy over austerity measures has further diminished hopes for a quick resolution."

Inside Bay Area—Ousted protesters marching back to Frank Ogawa Plaza: "Occupy Oakland demonstrators clashed all over downtown Tuesday night with police who lobbed tear gas at least three times in futile attempts to fully disperse the more than 1,000 people who took to the streets after the early-morning raid of the movement's encampment. ...Following the predawn raid, about 500 protesters met at the main branch of the Oakland library at 4 p.m., chanting that they would 'reclaim' what they now call Oscar Grant Plaza, named for the unarmed man who was killed in 2009 by a BART police officer."

Greg Sargent at the WaPo—It's on: Republicans slam Elizabeth Warren for embracing Occupy Wall Street: "Wow, this is going to be good: Occupy Wall Street is now officially an issue in what may be the highest-profile and most polarizing Senate race in the country. National Republicans are now attacking Elizabeth Warren for embracing the protests, seeking to make a liability out of the fact that Warren, a longtime critic of Wall Street excess, has now aligned herself with the movement's intellectual underpinnings. What this means: The conservative effort to turn blue collar whites and independents against the protesters and their broader populist message—exploiting a traditional cultural fault line in our politics—will now unfold in the context of a high profile political campaign."

Richard Cohen reports that he does not find any anti-Semitism at Occupy Wall Street, but he does find "the usual zaftig young women doing the usual arrhythmic dance, somehow missing the beat of many drums." Yiiiiiiiiikes.

As always, please feel welcome and encouraged to leave links in comments to good (or troubling) stuff you're reading.