[Trigger warning for heterocentrism.]
So there's
this article
at CNN about how parents can talk to their kids about same-sex relationships, which, as an aside, is prominently linked from the front page of the site with "When kids ask same-sex questions."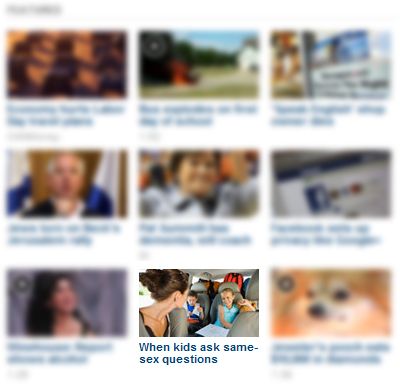 You didn't even KNOW there were same-sex questions, did you? Neither did Rep. Michele Bachmann, but she will be introducing a Federal Question Amendment to ban same-sex questions and protect the sanctity of straight questions as soon as Congress is back in session.
Anyway!
The thing that strikes me about the article is how, even though the author acknowledges that parents' prejudices tend to unnecessarily complicate conversations about why a classmate has two moms or whether two men can get married, she seems utterly unaware of the heterocentrism embedded in writing an article for "parents" about how to talk to their kids about "nontraditional families."
Without any qualifier like "straight parents," the author sets up "parents" and "nontraditional families" as mutually exclusive groups. She assumes that she's talking to straight parents, and thus is her language exclusionary of the precise parents about whom she doesn't know how to talk to her kids. (Huh!)
And then there's this: Throughout the article runs a theme of parents who want to teach their kids tolerance, but nary a mention of the possibility that parents
might be talking to kids who will themselves be in a same-sex relationship someday.
There is an implicit assumption that the children to whom "parents" are speaking are also straight, and just need a functional explanation to understand same-sex relationships as something that exist in the world, though many children will actually be introduced to an understanding of
who they are
during early conversations about same-sex relationships.
Not making assumptions about sexuality is an important lesson for kids to learn, irrespective of their own sexuality.
In any case, with
about 12%
of the US now living in a place where same-sex marriage is legal, and more states soon to follow, it doesn't seem like a response to a question about same-sex marriage need make for a "complicated ride home" in the car.
"Yes, boys can marry boys, too," is easy enough. And factually correct.