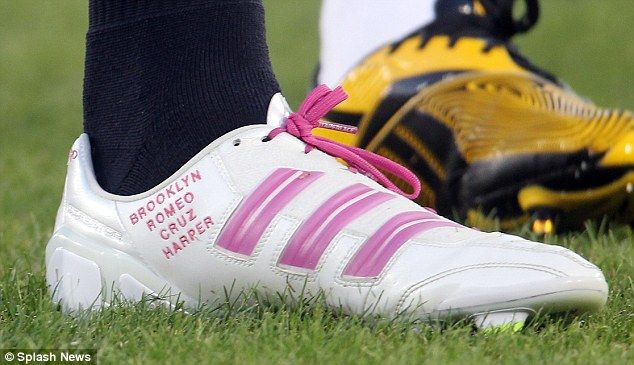 Speaking of
the beautiful game... Above, an image of David Beckham's game boot
worn in the LA Galaxy's match with Real Madrid this weekend
, featuring the name of his four children with wife Victoria Beckham, including their new baby daughter.
I have
mentioned previously
that I like Victoria Beckham, and I like David Beckham, too—he is widely ridiculed for being daft and silly, but he was one of the first superstar athletes who was routinely asked about his gay fan following and never distanced himself from gay fans (
refusing to take the bait
even during an "Ali G" interview for Comic Relief) and even being
one of the first players
to make a PSA about anti-gay prejudice and bullying in football.
In every interview I've ever seen with him, he speaks respectfully about his wife, and/or to her, as they do lots of joint interviews. Before she was pregnant with their daughter, anytime he was asked if they were planning to have more children, he would say how he'd love to have a daughter, and he hasn't stopped gushing about how happy he is to have a daughter since she was born, posting pictures online of her like a typical proud papa.
I don't really know what kind of person he is, besides what little I can glean from media who likes to make heroes and villains out of regular human beings with extraordinary careers, but I like that an international male superstar professional athlete has pink laces because he's so goddamn happy to have a daughter, and that he didn't feel obliged to put his sons' name in blue, as if it's fine to love a daughter or a sister but not to be anything like one.