by Shaker Sonia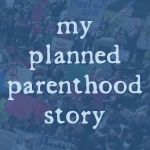 The abortion was a long time ago. It still hurts to think about, for mixed reasons, including prior trauma and not having children afterwards.
Nevertheless, I am deeply grateful for the privilege of not having a baby at the age of 18 with an abusive man. What I remember most clearly about the procedure itself is that I was physically trembling, and a kind nurse (or volunteer?) held my hand comfortingly the whole time.
Thank you, Planned Parenthood.
Read the rest of the My Planned Parenthood Carnival posts here.