After Melissa posted
a piece yesterday
in which she used the word "dénouement" as a verb, I
noted in comments
and by email,
Bonus points for using "dénouement" as a verb. Take that, prescriptive grammarians!
She mailed back:
I will almost certainly get yelled at for using dénouement that way, but I don't care! I like the sound of it! :)

And I may, just MAY, have decided to go ahead and use it even knowing someone would probably complain because I was feeling irascible, lol.
Then, a little while ago, I got the following email from Melissa:
Do I really need to add "Don't email me about my fucking wordplay?" to the email policy? LOOKS LIKE IT LULZ!
Attached to the email was, of course, a message from a reader explaining to her that the word "dénouement" is
a noun only
.
That's when the Authorities got involved.

Re: denouement--UPGAL Official Business: We Have Received Complaints

Dear MELISSA MCEWAN,

We have received Complaints about your use of the French noun "dénouement" as a verb. Our investigation has determined that this usage falls under Poetic License for Wordplay (#305).

Please find attached your Poetic License for WORDPLAY issued by Nosey Parker, Secretary of All Up in Your Grammar Business here at the Uptight Grammarians of America League (UPGAL!)

Please display your official UPGAL Poetic License in your Place of Business so as to avoid such static in the future.

This License comes with a fancy border and an official seal. There is no frame, but as you can see it is backed by a sparkly blue ironing-board cover. You may notice a smudge of white-out where we had misspelled "America". If that doesn't indicate our rigorous dedication to utmost perfection, well then what the hell will?

SIGNED,

Nosey Parker, UPGAL Secretary of AUIYGB

(1 attachment)
Re: denouement--CORRECTION

That's Uptight PRESCRIPTIVE Grammarians of America League.

Our bad.

UPGAL: "Our bad,

but never yours!

"
So, to dénouement: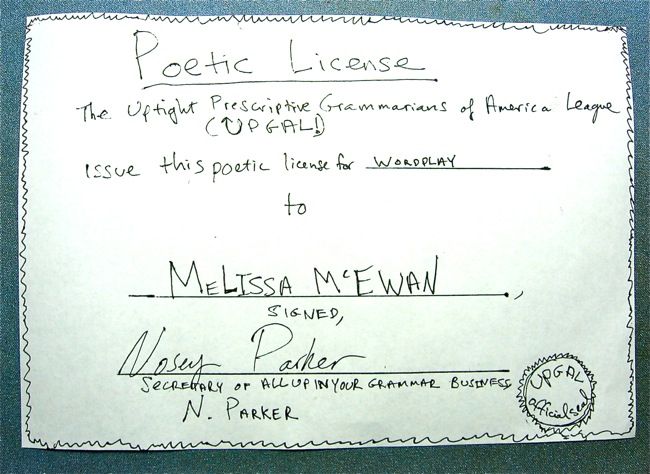 Text: "Poetic License: The Uptight Prescriptive Grammarians of America (UPGAL!) Issue this Poetic License for WORDPLAY to MELISSA MCEWAN. SIGNED, Nosey Parker, Secretary of All Up In Your Grammar Business. UPGAL Official Seal." Image description: a hand-scribbled pen-on-paper drawing of a license with a squiggly border and round "official seal" doodled in the bottom right corner. The drawing rests on a sparkly blue background and is poorly photographed.

It's signed, sealed, and posted in your Place of Business.