There's still an inordinate focus on the nuclear plants in Japan, so news on the grave humanitarian crisis is harder to come by. But it is an incredibly serious concern: There are food, medical, and shelter shortages, and sanitation is becoming a problem in many of the worst-hit spots. Please feel welcome and encouraged to leave links to aid organizations in comments. I continue to recommend
donations to Doctors Without Borders
, who are in Japan and assessing needs for vulnerable populations in particular.
[TW] Although opportunistic sexual violence is not being reported yet that I've seen, we have seen such reports following every large-scale natural disaster in the past few years. Doctors Without Borders is also excellent at providing care to survivors in chaotic environments, which is another reason I strongly recommend them.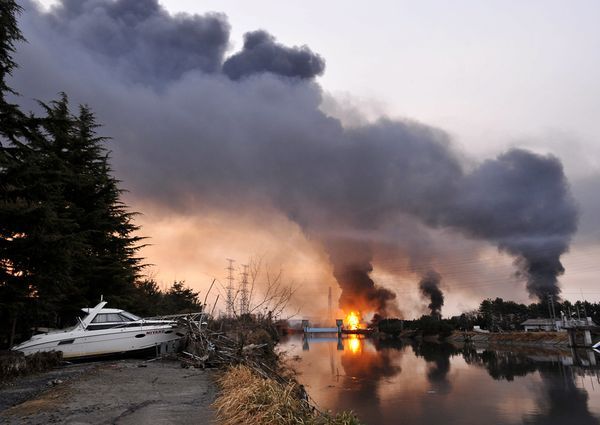 Flames and smoke billow from a petroleum-refining plant damaged by the Japan earthquake in Shiogama, Miyagi Prefecture, on March 13. [Photograph by Kimimasa Mayama, EPA.]
The above photograph is part of
National Geographic
's
Japan Tsunami: 20 Unforgettable Pictures
.
Mama Shakes forwarded
this series of before-and-after photos
showing the devastation in Japan. Breathtaking.
The
Guardian
's live updates can be found
here
.
Reuters—
Worries mount, food runs short for Japanese victims
:
A widening cloud of radiation on Tuesday added to the misery of millions of people in Japan's devastated northeast, already short of water and food and trying to keep warm in near-freezing temperatures.

As bodies washed up on the coast from Friday's devastating earthquake and tsunami, injured survivors, children and elderly crammed into makeshift shelters, often without medicine. By Monday, 550,000 people had been evacuated after the cataclysmic events that killed at least 10,000.

Panic swept Tokyo after a rise in radioactive levels around an earthquake-hit nuclear power plant north of the city, causing some to leave the capital and others to stock up on food and supplies.

The humanitarian crisis was unfolding on multiple fronts -- from a sudden rise in orphaned children to shortages of water, food and electricity to overflowing toilets in packed shelters and erratic care of traumatized survivors.

With homes leveled, towns washed away and jobs gone, many were wondering if they stay and rebuild.

"We survived, but what are we supposed to do from here?" said Sachiko Sugawara, 63, now living at one of the shelters.

Bodies were stacking up at morgues and the chronically ill were running out of medicine.

"People are exhausted both physically and mentally," said Yasunobu Sasaki, the principal of a school converted into a shelter in Rikuzentakata, a nearly flattened village of 24,500 people in far-northern Iwate prefecture.
Also from Reuters—
Japan's crippled coastline—"It doesn't get worse than this"
:
Four days ago, Otsuchi was just another Japanese coastal town, a destination for surfers and lovers of remote beaches. Now, only a supermarket and a Buddhist temple remain standing amid a sea of devastation.

Like most of Japan's northeast, Otsuchi was rattled by Friday's massive earthquake and then flattened by the ensuing tsunami. Officials fear more than half the town's population of about 19,000 is buried under the rubble.

"Otsuchi reminds me of Osaka and Tokyo after World War Two," Tadateru Konoe, president of Japan's Red Cross, told Reuters, as rescue workers swarmed over rubble, twisted metal and debris, some of it ablaze.

"Everything is destroyed and flattened. This is a complete disaster. In my long career in the Red Cross, this is the worst I have ever seen," he said.
AP—
Japan rescuers pull 70-yr-old woman from debris
: "Rescuers pulled a 70-year-old woman from her toppled home Tuesday, five days after an earthquake-spurred tsunami tossed the house off its foundation in Japan's northeast. The rescues of the elderly Sai Abe and a younger man pulled from rubble elsewhere in the region were rare good news following Friday's disaster."
New York Times
—
In Stricken Fuel-Cooling Pools, a Danger for the Longer Term
: "Even as workers
race to prevent
the radioactive cores of the damaged nuclear reactors in Japan from melting down, concerns are growing that nearby pools holding spent fuel rods could pose an even greater danger. The pools, which sit on the top level of the reactor buildings and keep spent fuel submerged in water, have lost their cooling systems and the Japanese have been unable to take emergency steps because of the multiplying crises. Experts now fear that the pool containing those rods from the fourth reactor has run dry, allowing the rods to overheat and catch fire. That could spread radioactive materials far and wide in dangerous clouds."
Guardian
—
Japan radiation leaks feared as nuclear experts point to possible cover-up
:
Nuclear experts have thrown doubt on the accuracy of official information issued about the Fukushima nuclear accident, saying that it followed a pattern of secrecy and cover-ups employed in other nuclear accidents. "It's impossible to get any radiation readings," said John Large, an independent nuclear engineer who has worked for the UK government and been commissioned to report on the accident for Greenpeace International.

"The actions of the Japanese government are completely contrary to their words. They have evacuated 180,000 people but say there is no radiation. They are certain to have readings but we are being told nothing." He said a radiation release was suspected "but at the moment it is impossible to know. It was the same at Chernobyl, where they said there was a bit of a problem and only later did the full extent emerge."
AP—
Stocks Plunge As Japan Nuclear Crisis Worsens
: "Stocks nosedived and bond prices rose Tuesday as the nuclear crisis in Japan intensifies following a deadly earthquake and tsunami. The Dow Jones industrial average slid more than 240 points, or 2 percent, shortly after the market opened. That followed a 10.6 percent drop in Japan's benchmark Nikkei 225 stock average."