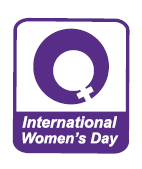 Here are some of the best (though not necessarily uplifting; trigger warning for violence) articles I've read this morning. Please feel welcome and encouraged to leave more links in comments.
Shelby Knox at Change.org—
Make Change on 100th International Women's Day
: "In honor of International Women's Day, we're highlighting actions across the site that have the potential to be just as revolutionary for women and girls as those campaigns waged by the generations before us (just look for the logo!). Start by checking out the petitions below, launched by major nonprofit players in the fight for gender equity, and sign on to make modern day history."
AP—
100th anniversary of International Women's Day
: "The head of the new U.N. women's agency said Tuesday there has been 'remarkable progress' since International Women's Day was first celebrated a century ago but gender equality remains a distant goal because women still suffer widespread discrimination and lack political and economic clout."
CBC—
History of International Women's Day
: "Although more associated today with recognizing and acknowledging the contributions of women, International Women's Day began as an offshoot of increased labour unrest in the early 20th century. As industrialization changed the fabric of society, pushing more people into urban centres and factories, the rights of the worker emerged as an important socio-political issue. In 1909, the Socialist Party of America established National Women's Day, to be held across the United States on the last Sunday in February."
Leo Gerard for
The Hill
—
On International Women's Day, GOP attacks on women
: "[The GOP's attack on unions] is an attack on women. In the state and local public sector unions that these governors are trying to enfeeble, members are more likely to be women—teachers, librarians, nurses, and public health workers. On the state level, 52 percent of workers are women; on the local level, it's 61 percent."
LA Times
—
Protest movements give new energy to International Women's Day
: "International Women's Day is normally an occasion for politicians to issue lukewarm statements about equality, while rights activists struggle to rally support around issues such as citizenship, child-custody law and domestic abuse. But this year, women across the Middle East and North Africa are highlighting their role in the protest movements that have toppled dictators in Tunisia and Egypt and appear on the verge of pushing through major changes in other places."
Times of India
—
2,000 tribal women jailed on Women's Day in Bhopal
: "While chief minister Shivraj Singh Chouhan was presenting awards to two brave women on International Women's Day on Tuesday, around two thousand tribal women were being rounded up by the police as they marched to his house to demand ownership papers to their land in Madhya Pradesh."
AP—
Four killed in Ivory Coast after women's march
: "At least four people have been killed in the Treichville neighborhood of Abidjan hours after women led a march to commemorate the slaying of seven of their sisters during a demonstration last week."
Sophia Echo
—
International Women's Day: Too few women at the helm
:
The European Parliament marked the centenary of International Women's Day (on March 8) with a debate and vote on two resolutions tabled by the Women's Rights Committee: one on gender equality and the other on female poverty. A third resolution, on reducing health inequalities, was also adopted.

In a special ceremony held on March 8 to commemorate 100 years of campaigning for women's rights, EP President Buzek said: "There are too few women in the European Parliament: 35 per cent is not enough, even though this is slightly more than in national parliaments. It is up to national parliaments to ensure higher representation in the EP. Member States should therefore adopt relevant decisions and a legal framework to boost the presence of women in the EP."

The need to narrow the gender pay gap, to get more women in decision-making positions and to raise the female employment rate are among key points in the resolution accompanying the 2010 annual report on equality between women and men in the EU, drafted by Mariya Nedelcheva (EPP, BG) and adopted by 366 in favour, 200 against and 32 abstentions. The importance of better child care facilities and child-related leave is also highlighted.
BBC—
Women in Wales missing top jobs, says equality watchdog
: "Employers have been urged to meet the work needs of women as a report shows women in Wales continue to lack power and influence in key business and public roles."
Christian Science Monitor
—
On International Women's Day, Egyptian women demand revolutionary role
: "But though they fought for their nation's freedom, some women now fear they are being sidelined in the process of building the new Egypt. Today, on International Women's Day, they are returning to Tahrir, where the revolution began, for a 'Million Woman March' aimed at reminding the nation that they should have a voice in its future."
USA Today
—
Airlines fly '100% female-operated' flights for Women's Day
: "Air India and Air France are among the airlines flying '100% female-operated' flights today, efforts mean to commemorate International Women's Day."
Btw, worst headline of the day so far goes to the
Washington Post
for:
"Google Maps get girly to celebrate International Women's Day
." Wow.