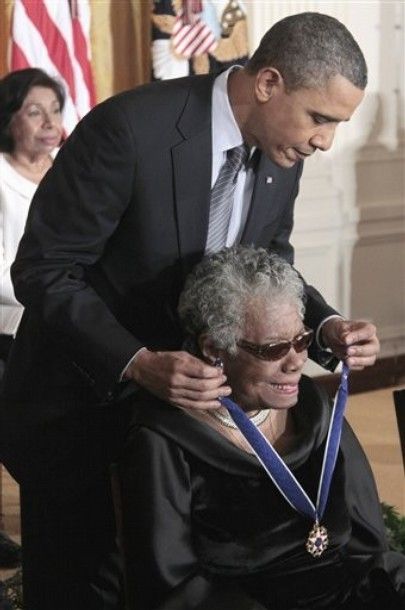 President Barack Obama presents a Medal of Freedom to author and poet Maya Angelou during a ceremony in the East Room of the White House in Washington, Tuesday, Feb. 15, 2011. [AP Photo]
Yesterday, President Obama
awarded
the Presidential Medal of Freedom, the nation's highest civilian honor, to Maya Angelou and 14 other recipients including cellist Yo-Yo Ma, civil rights activist Sylvia Mendez, and former president George H.W. Bush.
"This is one of the things I most look forward to every year," Obama said, calling the honorees "the best of who we are and who we aspire to be."

...[Obama] praised Angelou for rising above an abusive childhood to inspire others with her words, saying her voice has "spoken to millions, including my mother, which is why my sister is named Maya."

He quoted Angelou, saying, "History, despite its wrenching pain, cannot be unlived, but if faced with courage, need not be lived again," and bent down to kiss her cheek as he presented her with the medal.
The other inductees were Holocaust survivor, author, and activist Gerda Weissmann Klein, co-founder of the National Resources Defense Council John H. Adams, former ambassador to Ireland and founder of VSA Jean Kennedy Smith, former president of the AFL-CIO John J. Sweeney, artist Jasper Johns, German Chancellor Angela Merkel, civil rights activist and Congressional Representative John Lewis (D-Ga.), investor Warren Buffett, basketballer Bill Russell, baseballer Stan Musial, and and Dr. Tom Little, "an optometrist who was killed while on a humanitarian mission to Afghanistan, whose award was accepted by his wife."