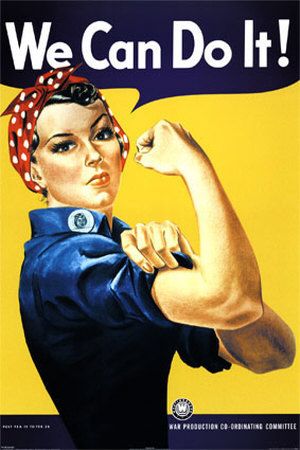 Geraldine Doyle, who was the inspiration for the WWII "Rosie the Riveter" poster,
has died
at age 86.
For millions of Americans throughout the decades since World War II, the stunning brunette in the red and white polka-dot bandanna was Rosie the Riveter.

Rosie's rolled-up sleeves and flexed right arm came to represent the newfound strength of the 18 million women who worked during the war and later made her a figure of the feminist movement.

But the woman in the patriotic poster was never named Rosie, nor was she a riveter. All along it was Mrs. Doyle, who after graduating from high school in Ann Arbor, Mich., took a job at a metal factory, her family said.

One day, a photographer representing United Press International came to her factory and captured Mrs. Doyle leaning over a piece of machinery and wearing a red and white polka-dot bandanna over her hair.

In early 1942, the Westinghouse Corp. commissioned artist J. Howard Miller to produce several morale-boosting posters to be displayed inside its buildings. The project was funded by the government as a way to motivate workers and perhaps recruit new ones for the war effort.

Smitten with the UPI photo, Miller reportedly was said to have decided to base one of his posters on the anonymous, slender metal worker - Mrs. Doyle.

For four decades, this fact escaped Mrs. Doyle, who shortly after the photo was taken left her job at the factory.

...In 1984, Mrs. Doyle and her family came across an article in Modern Maturity magazine, a former AARP publication, that connected her UPI photo with Miller's wartime poster.

..."You're not supposed to have too much pride, but I can't help have some in that poster," Mrs. Doyle told the Lansing State Journal in 2002. "It's just sad I didn't know it was me sooner."
In addition to lending her likeness to Rosie, Ms. Doyle was a cellist, a wife, and a mother.
[H/T to Deeks.]