[Trigger warning for images of violence and for fat hatred. Video is mildly NSFW, with some brief female nudity.]
Shaker Julie forwarded me the below advertisement for the weight loss drug, Xenical, which appears to be a real advert, although I can't determine it's actually running anywhere at the moment. (Let us fervently hope it is not.) Previously, Xenical ran ads so objectionable in Canada that it prompted the Canadian Women's Health Network to
write a letter of complaint
to the Minister of Health. Xenical is known in the US as "Ally."
Voiceover (in accented English, over gauzy images, treated to look like vintage footage, of a thin white woman in various scenes, like as a nun, cradling a wounded soldier, or as a blindfolded soon-to-be-victim of a firing squad, sporting a drawn-on mustache, interspersed with random images like a bloodied knife or a pink rose): I'd like to do all the things most people just read about: Know real love and real fear, walk naked in the winter snow and in the summer tide, to play like a child, to think as a martyr, to make love to [a] stranger, taste sin and purity at the same moment in time, to be as a lamb in a den of wolves. (woman holds up silver hand mirror) But first (the image cuts to an extreme close-up of a white female face) I would just like to tie my own shoes. (ominously, the camera slowly pulls back, revealing a fat woman sitting on a bed, looking miserable, which fades to the onscreen text: "Lose weight. Gain life.")
This reminds me of the advert for the Realize Adjustable Gastric Band we discussed
here
, which also relied on the truly absurd premise that all fat people live terrible, unfulfilling, limited lives because they're SO FAT.
Some fat people
do
live terrible, unfulfilling, limited lives, and in some cases it may be because they're fat—or because they've got shame, anxiety, and/or rigidly self-imposed boundaries in response to endemic cultural fat hatred. I do not want to disappear those experiences. But those experiences are not, as the above advert (and the similar Realize advert) would have us believe, universal among fat people.
I have known real love and real fear (don't even get me started on romanticizing fear as an experience all humans should have); I have gone skinny-dipping in Lake Michigan (and I've no interest in walking naked in the winter snow, but my fat wouldn't stop me if I did); I have fucked a stranger; blah blah blah. I can also tie my own shoes.

I've also traveled to other continents, lived in another country, ridden roller coasters, gone horseback riding, hiked through the Highlands, been rollerskating and bowling and golfing and rockclimbing and biking, gotten married, gotten divorced, gotten married again, had personal and professional achievements, had personal and professional failures, made friends, lost touch with friends, learned how to cook and tapdance and play piano and milk a cow, played endless video games, wrote a book, rode an elephant, went to prom, went to university, went to Niagra Falls, went to a taping of the Drew Carey Show (don't ask), went to Disneyland, went to Disney World, went to Sesame Place, went up in the Statue of Liberty, went up in the Arch, threw up in a brewery in St. Louis, pet a giraffe, bought a house, sold a house, bought another house, struggled financially, splurged stupidly, acquired a disability unrelated to my fat, and a second, visited 44 of the 50 states, watched a calf being born, saw The Matrix: Reloaded in IMAX from the first goddamn row, attended hundreds of rock concerts, got drunk, got high, got sick, got knocked down, got back up again, and flown a kite. That's not a definitive list. Still. All these things I have done, often in the company of other fat people—and I am a fat person.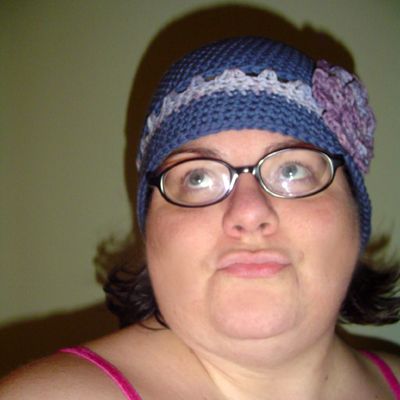 See? Double chin and everything.


It turns out, lots of fat people live full lives just fine. And we're probably more keenly conscious of the act of living life than lots of thin people, because we're constantly reminded that we're doing so in direct contravention of the expectation that we should be sitting at home on our beds looking sad.

I've said it before and I'll say it again: It remains a radical act to be fat and happy. If you're fat, you're not only meant to be unhappy, but deeply ashamed of yourself, projecting at all times an apologetic nature, indicative of your everlasting remorse for having wrought your monstrous self upon the world. You are certainly not meant to be bold, or assertive, or confident—and should you manage to overcome the constant drumbeat of messages that you are ugly and unsexy and have earned equally society's disdain and your own self-hatred, should you forget your place and walk into the world one day with your head held high, you are to be reminded by the cow-calls and contemptuous looks of perfect strangers that you are not supposed to have self-esteem; you don't deserve it. Being publicly fat and happy is hard; being publicly, shamelessly, unshakably fat and happy is an act of both will and bravery.

Fuck off, Xenical. I'm fat and happy.