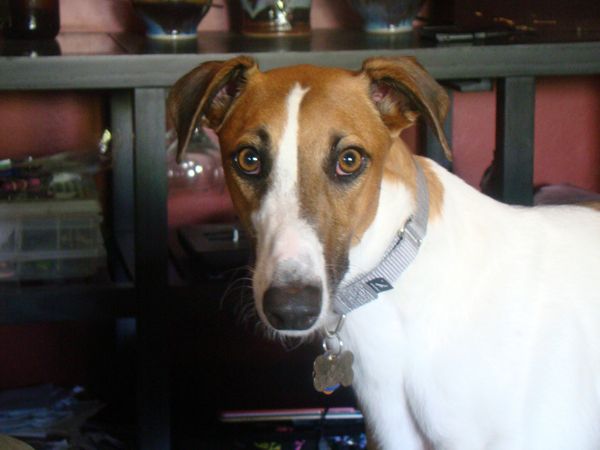 "What?"
A bunch of people have asked me for an update on how things are going at Shakes Manor since Dudley arrived, and I can report that everything is going splendidly. The girls are all back to their normal routines, and don't let their new brother stand in the way of getting the inordinate levels of attention and affection to which they are accustomed. All four happily share space under my feet and in my way while I'm making dinner, angling for a treat.
And they all happily accept treats in a frenzy of controlled chaos, with nary a moment of worrisome food aggression.
Dudz continue to be the most lovely dog, whose desperately sweet and luminously silly personality has revealed itself in blossoming waves as his confidence has grown.
Recently, he's started doing the hard greyhound lean against my legs when he wants attention; I reach down and wrap my arms around his sinewy neck and kiss the top of his head, and he swivels his head around to lick my face and nibble my chin. When Iain arrives home from work, he leaps with joy from play-bow to play-bow, and wags his tail with an energy that innovative green engineers might endeavor to harness.
He is an absolute, undiluted pleasure, and his life has woven so seamlessly into ours that it is strange to imagine he hasn't been here all along.
I knew I was going to love him, but I didn't imagine I would love him this hard.
One last but vital note: I have recently discovered that there is nothing more amusing in the entire world than talking to Dudley in a Ringo Starr voice. Importantly, it's not just the Liverpudlian accent, but Ringo's mellow 'tude. "Doodleh, d'yeh think we should go fer a walk, mate?" His ears perk up; his head tilts. And Iain says: "Since when is our dug a fooking Beatle?"