That trickster Jesus is up to his magical shenanigans again, making a
saucy
appearance
at a Scranton pizzeria
: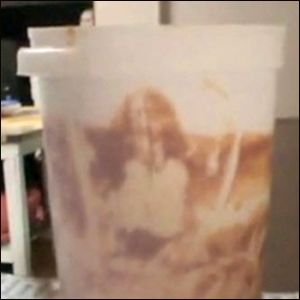 Ms. Salerno was at [Brownie's Famous Pizzeria, a long-standing eatery on Luzerne Street] and talking with her granddaughter, 23-year-old Jackie Krouchick, while she made a pizza. Her granddaughter is a single mother who she said is struggling through tough times. Ms. Krouchick told her grandmother she worried she was losing her faith.

As Ms. Salerno poured tomato sauce from a white plastic bucket, she urged her granddaughter to keep believing. That is when she saw it, the image of a man with long hair and a beard in the leftover sauce.

...Maryann Marsico, who works at Brownie's, said even an atheist would find it unmistakable.

"My 2-year-old grandson knows who it was. ... He just looked at it and said, 'That's Papa Jesus,' " Ms. Marsico said.

It was not lost on Ms. Marsico that Jesus appeared at Brownie's at the start of Lent, a holy Christian time that also happens to spur pizza sales because observers are not supposed to eat meat on Fridays.

"I will never cheat and eat meat again," she said.
I love the implication that atheists are just too fucking dumb to comprehend the presence of Jesus in a tub of pizza sauce.
Even a two-year-old knows Jesus when he sees him!
I will resist the ungenerous urge to respond in kind.
[H/T to Shaker Garbo. Holy folks Gone Wild:
Weeping and bleeding
and appearing in
Cheetos
,
more Cheetos
,
pretzels
,
fire
and on
pancakes
,
baking sheets
,
pizza pans
,
doggy doors
,
ice
,
peanuts
,
x-rays
,
turtles
,
ultrasounds
,
chocolate
,
dying plants
,
sheet metal
,
trees
,
more trees
,
more trees
,
more trees
,
more trees
,
more trees
,
wardrobes
,
water stains
,
plates of pasta
,
drywall
,
fish
,
grilled cheese sandwiches
,
potato chips
,
a bathroom door
,
a banana
, and
a bruise
.]