You can spend your entire life working at something, learning, practicing, training, honing your skills, building your talents, giving every piece of yourself, your nights and mornings and weekends and every spare minute you have, keeping a laser-like focus on your ultimate goal, inch by inch making your way to the top of your field, becoming the best there ever was, maybe the best there ever will be...and whether you're
a presidential candidate
or America's best female skier, they can still put you in your place with a single slur, a single touch, a single picture: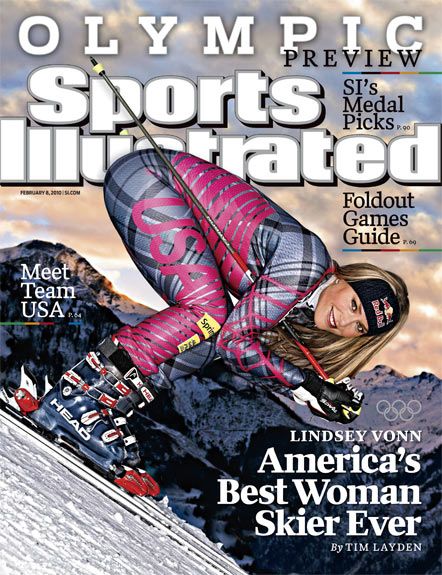 Dr. Nicole M. LaVoi
(emphasis original):
I've thought to myself and predicted out loud that leading up to the 2010 Vancouver Olympics that we would see a LOT of Lindsey Vonn in the media.

Vonn is first a GREAT athlete, but she also represents norm of feminine attractiveness. The combination of athleticism and attractiveness make Vonn the likely poster girl of the US Olympic Team, and the media hasn't disappointed in constructed her as such.

Not to be left out, Sports Illustrated is featuring Vonn on their February 8,2010 cover. For those of you who follow SI Covers, know that female athletes are RARELY featured on the cover.

Over the last 60 years researchers have shown that

about 4% of all SI covers have portrayed women

.
In Dr. LaVoi's comments, there are all sorts of the usual contortions of logic and protestations of
looking for things to get mad about
, seeing things that aren't there,
blah blah blah
. But as Dr. LaVoi notes, sure, Vonn's in an actual ski pose, but she's
not skiing
. This isn't an action shot; it's a still, posed image, and Vonn is not wearing her helmet, which would obscure her smile as she looks directly into the camera.
That the shot is angled with the slope is not incidental either.
This is about as obvious a sexualized image of a female athlete for male consumption as I've ever seen. It's absolutely absurd. And equally depressing.

Contact

Sports Illustrated
.
[H/T to Shaker Nellie.]