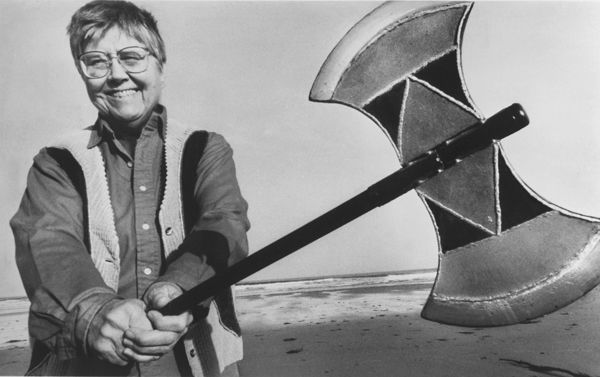 Mary Daly, radical feminist theologian and philosopher, has died at age 81. The
Globe
's obit is
here
.
Fiercely and playfully -- often at the same time -- Mary Daly used words to challenge the basic precepts of the Catholic Church and Boston College, where she was on the faculty for more than 30 years.

Dr. Daly emerged as a major voice in the burgeoning women's movement with her first book, "The Church and the Second Sex," published in 1968, and "Beyond God the Father: Toward a Philosophy of Women's Liberation," which appeared five years later. That accomplishment was viewed, then and now, as all the more significant because she wrote and taught at a Jesuit college.

"She was a great trained philosopher, theologian, and poet, and she used all of those tools to demolish patriarchy -- or any idea that domination is natural -- in its most defended place, which is religion," said Gloria Steinem.

..."Ever since childhood, I have been honing my skills for living the life of a Radical Feminist Pirate and cultivating the Courage to Sin," she wrote in the opening of "Sin Big," her New Yorker piece. "The word 'sin' is derived from the Indo-European root 'es-,' meaning 'to be.' When I discovered this etymology, I intuitively understood that for a woman trapped in patriarchy, which is the religion of the entire planet, 'to be' in the fullest sense is 'to sin.'"
RIP Professor.
UPDATE:
As Shaker IraeNicole first noted in comments, Daly's work was unfortunately marred by a streak of transphobia. Wikipedia
summarizes
its emergence in her work, including her assertion in
Gyn/Ecology
that transgender people are "Frankensteinian." While we want to honor her contributions to feminist thought, we also want to note the limitations of her brand of feminism, which deemed some women monstrous, a view that Shakesville endeavors quite fervently to counter. Cait and Shaker just_some_trans_guy also note she was
challenged on her racism
as well.
[H/Ts to Shakers Leigh, caseyOR, Sarah, and Phyllis. More
here
.]