Shaker Sho sends along the following example of Assvertising with the note, "I saw this on the subway today."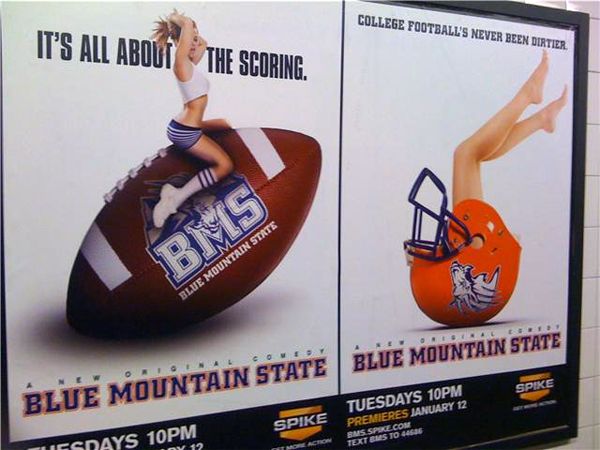 [If you can't view the image, it's a pair of subway posters for a new SpikeTV scripted comedy series about college football called "Blue Mountain State." One has an image of a blond white woman in crop-top and short-shorts "riding" a giant football, accompanied by the text: "It's all about the scoring." The other has an image of a giant upside-down football helmet with the disembodied legs of a white woman coming out of it, accompanied by the text: "College football's never been dirtier."]
The show is highlighted on Spike's website with the image of a naked white woman from behind, covering her ass cheeks with pompons.
Spike (also home to the
KBlogz-reviewed
"MANswers") bills itself as "TV for Men." If I were a man, I do believe I'd sue for defamation of character.
[Assvertising: Parts One, Two, Three, Four, Five, Six, Seven, Eight, Nine, Ten, Eleven, Twelve, Thirteen, Fourteen, Fifteen, Sixteen, Seventeen, Eighteen, Nineteen, Twenty, Twenty-One, Twenty-Two, Twenty-Three, Twenty-Four, Twenty-Five, Twenty-Six, Twenty-Seven, Twenty-Eight, Twenty-Nine, Thirty, Thirty-One, Thirty-Two, Thirty-Three, Thirty-Four, Thirty-Five, Thirty-Six, Thirty-Seven, Thirty-Eight, Thirty-Nine, Forty, Forty-One, Forty-Two, Forty-Three, Forty-Four, Forty-Five, Forty-Six, Forty-Seven, Forty-Eight, Forty-Nine, Fifty, Fifty-One, Fifty-Two, Fifty-Three, Fifty-Four, Fifty-Five, Fifty-Six, Fifty-Seven, Fifty-Eight, Fifty-Nine, Sixty, Sixty-One, Sixty-Two, Sixty-Three, Sixty-Four, Sixty-Five, Sixty-Six, Sixty-Seven, Sixty-Eight, Sixty-Nine, Seventy, Seventy-One, Seventy-Two, Seventy-Three, Seventy-Four, Seventy-Five, Seventy-Six, Seventy-Seven, Seventy-Eight, Seventy-Nine, Eighty, Eighty-One, Eighty-Two, Eighty-Three, Eighty-Four, Eighty-Five, Eighty-Six, Eighty-Seven, Eighty-Eight, Eighty-Nine, Ninety, Ninety-One, Ninety-Two, Ninety-Three, Ninety-Four, Ninety-Five.]