[Trigger warning.]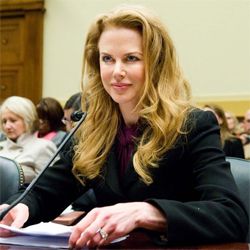 Nicole Kidman, a goodwill ambassador for the United Nations Development Fund for Women, traveled to Washington, DC this week
to testify
in front of the US House Committee on Foreign Affairs in order to convince the US Congress to support the International Violence Against Women Act:
During her speech, the Oscar winner cited the example of a woman in Pakistan scarred for life when her husband threw acid in her face and a girl in Afghanistan attacked for going to school.

She also noted how as many as 90 per cent of women in some villages in Congo have been raped.

Kidman said it was estimated a third of all women in the world will be abused at one point in their life and called on Congress to offer substantial help, not "bandaids".

"These champions need and deserve our support. Not with a box of bandaids but with a comprehensive, well-funded approach that acknowledges that women's rights are human rights," she said.
Hey, that
sounds familiar
!
It's been 14 years since then-First Lady Hillary Clinton said those words in Beijing. And it's
still
something that needs to be said,
still
something that feels jarring when somebody actually says it.
[H/T to Shaker Cat.]