This
? Is the greatest story in the history of the series of tubez.
First of all, it's a story about a Jesus sighting, which of course I love. Secondly, there's a picture, which I can't resist: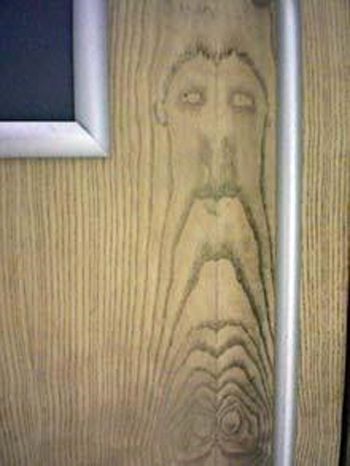 Third, everything about it is just perfect. The headline: "'Jesus face' spotted on the toilet door in Ikea Glasgow." The picture caption: "Jesus, or possibly Gandalf, as spotted on the door of the gents' toilets in a Glasgow branch of Ikea." The lede: "A bearded face, with long flowing hair, is plainly visible on the wooden door of the men's toilet in the Braehead outlet of the Swedish furniture and meatballs giant." The quote from a shopper: "It's certainly not what you expect to find in an Ikea store. Mind you, you need a little divine intervention to get out of here sometimes." The store take on the visage: "In a further twist, Ikea bosses claim that the image is really Benny Anderson, of the Eurovision Song Contest-winning Swedish 1970s Europop outfit ABBA. A spokeswoman said: 'Swedishness is engrained in every part of our stores'."
And then there's the related article call-out: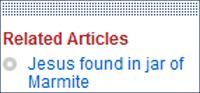 ["Related Articles: Jesus found in jar of Marmite"]
OMG! Stop, stop! I can't take anymore! LOLOLOLOLOL!!!
*
dies
*
[Holy folks Gone Wild:
Weeping and bleeding
and appearing in
Cheetos
,
more Cheetos
,
pretzels
,
fire
and on
pancakes
,
baking sheets
,
pizza pans
,
doggy doors
,
ice
,
peanuts
,
x-rays
,
turtles
,
ultrasounds
,
chocolate
,
dying plants
,
sheet metal
,
trees
,
more trees
,
more trees
,
more trees
,
more trees
,
more trees
,
wardrobes
,
water stains
,
plates of pasta
,
drywall
,
fish
,
grilled cheese sandwiches
, and
potato chips
.]