Because it's not enough that women are expected to celebrate Halloween by dressing like the stripper version of any costume—You can't be a nurse; you've got to be a SEXY nurse! You can't be a witch; you've got to be a SEXY witch! You can't be a cat; you've got to be a SEX KITTEN! You can't be a schoolteacher; you've got to be a SEXY Catholic
schoolgirl
!—now your dog
has to wear
a "sexy" costume, too!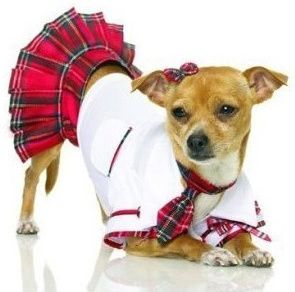 Rape culture
is a holiday in which men are encouraged to dress up like monsters who bite and suck and kill and devour, and women are encouraged to dress up like sex objects and children. And so are
their dogs
.
UPDATE:
Deeky emails:
Mind meld! While you were writing your costume post I was actually at the mall snapping pictures of Spencer's dreadfully misogynist costume display. Seriously, check this shit out. Every single costume in that window is hyper-sexualized. You've got the airline pilot, Captain Layover, there on the right. Get it? Captain Layover. And in the background there's the sexy... ummm... Mexican woman (That's a twofer: racist and sexist!), the sexy Scot and the sexy sailor. Awesome. Oh, but check out the sexy cabbie. See what her top says? Free rides. For fuck's sake. Free rides? Really? And look at the background there too. It's lingerie for sale. Not even costumes. Just underwear. Hustler brand underwear at that.

And that's just looking in their display window from the food court.

Inside was costume after sexy costume of low cut, miniskirt based costumes. This one was my favorite. Because what's sexier than being a child murderer?