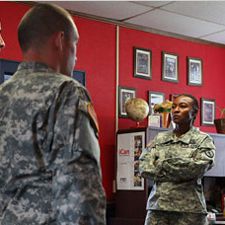 Command Sergeant Major Teresa L. King has become
the first woman to ascent to the top drill sergeant spot
in the US Army:
On Tuesday, the Army will make [King], 48, commandant of its drill sergeant school here. It is a first. No woman has run one of the Army's rigorous schools for drill instructors.

...The eighth of 12 children, the sergeant major is the daughter of a sharecropper who grew cucumbers and tobacco near Fort Bragg, N.C. Her first job in the Army was as a postal clerk, a traditional position for women in those days.

She says she regrets not having been deployed to a war zone during her 29-year Army career, though she has trained many soldiers who were. And now, in her new job, she will have significant influence over the basic training of every enlisted soldier.
Why that's particularly notable is available only in
the audio slideshow
that accompanies the story. King says of her philosophy: "The difference between yelling and instructing and mentoring soldiers, soldiers learn better when you coach and mentor them. And if you have trained them, why are you yelling? The drill sergeants I train will be running the Army in ten years, so I gotta get it right."
[H/T to Shaker Kirsaram.]