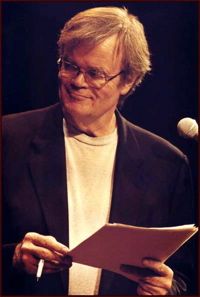 Garrison Keillor, writer and host of
A Prairie Home Companion
,
has had a minor stroke
:

Keillor, who turned 67 last month, was admitted to St. Mary's Hospital at the Mayo Clinic in Rochester, Minnesota, on Sunday night, spokesman Karl Oestreich said in a news release.

"He is up and moving around, speaking sensibly, working at a laptop, and it's expected he'll be released on Friday," Oestreich said.

"He plans to resume a normal schedule next week."
Get well soon, Mr. Keillor.
Photo from
Central Washington University
.