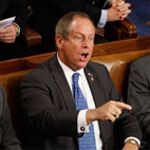 South Carolina Rep. Joe "
You lie!
" Wilson
has now raised over $2 million
since shouting at the president like a disrespectful git. If you'd like to donate to his Democratic opponent, Iraq veteran Rob Miller, and help him try to defeat Wilson (whose politics are as stinky as his manners), you can do so
here
or
here
.
o.oP!