Yeah, this is appropriate.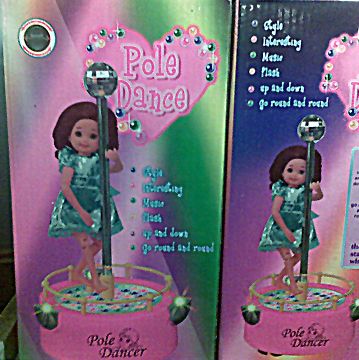 At Gizmodo, Jesus Diaz
says
: "It rotates. It has blinking lights, a disco ball, and a pole. And it's probably one of the wrongest toys you can give to any girl." He also notes that, unlike
the USB pole dancer
, "this one is actually for kids." Delightful!
And, lest anyone misunderstand that I have a problem with this toy because I'm slut-shaming actual living, breathing, real-life pole-dancing ladies: No, I'm not. My objection to this item is that it introduces as a fun activity a sex act to which a child cannot consent and actively seeks to sexualize children, specifically girls, and specifically in an objectified and submissive sexual role.
[H/T to Shaker Roro80.]