The below image was held up at a
totally clusterfucktastrophied
townhall meeting on healthcare hosted by Representative John Dingell (D-MI) in Romulus, MI last night: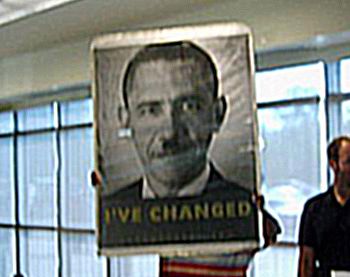 Without a trace of irony.
The hat tip goes to
Attaturk
, who says:
We live in a culture where one side is led by rational accommodationists who want to get along and the other, smaller side, led by a delusional, angry, id who want the majority to surrender. Millions of people "hoped", if nothing else, the tenor of politics would be improved only to find that racist, bigoted messages and implications to violence are more prevalent and more tolerated.
Steve Benen
and
Think Progress
have more on other townhall events that were disrupted last night. Also see
Krugman
and
Steven Pearlstein
.
A moment of perspective: The people who are currently going completely apeshit about spending federal funds to provide healthcare to every American citizen are the same people who cheered on an
almost trillion-dollar
war of choice which has left hundreds of thousands of people wounded or dead. They are also the same people who call themselves "pro-life," and the vast majority of them subscribe to a religion whose central figure spent an enormous amount of time exhorting kindness, admonishing his followers to care for the poor, and healing the sick.
They have no coherent ideology. They are simply mad with a voracious brand of self-interest designed by people who don't care about them.