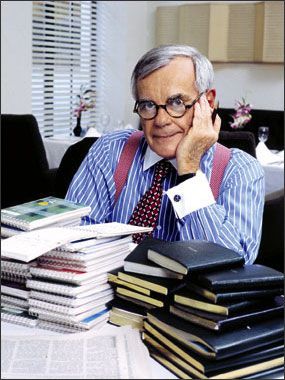 Writer Dominick Dunne, famous for detailing crimes of the rich, famous, and infamous,
has died
at age 83.
Vanity Fair editor Graydon Carter praised Dunne as a gifted reporter who proved as fascinating as the people he wrote about.

"Anyone who remembers the sight of O.J. Simpson trying on the famous glove probably remembers a bespectacled Dunne, resplendent in his trademark Turnbull & Asser monogrammed shirt, on the court bench behind him," Carter wrote in a statement released Wednesday. "It is fair to say that the halls of Vanity Fair will be lonelier without him and that, indeed, we will not see his like anytime soon, if ever again."

...Dunne was part of a famous family that also included his brother, novelist and screenwriter John Gregory Dunne; his brother's wife, author Joan Didion; and his son [actor-director Griffin Dunne].

A one-time movie producer, Dunne carved a new career starting in the 1980s as a chronicler of the problems of the wealthy and powerful.

Tragedy struck his life in 1982 when his actress daughter, Dominique, was slain — and that experience informed his fiction and his journalistic efforts from then on.

...He was as successful as a journalist as he was as a novelist and spent many of his later years in courtrooms covering high profile trials. Writing for Vanity Fair, he covered such cases as the William Kennedy Smith rape trial in 1991 and the trial of Erik and Lyle Menendez, accused of murdering their millionaire parents, in 1993.
RIP Mr. Dunne.