Burger King, whose adverts have previously featured in this series not
once
, not
twice
, not
thrice
, but
four
times, has done it again with a new ad that Copyranter
describes
as "the new leading 'most overtly blow-jobby ad' I've ever seen."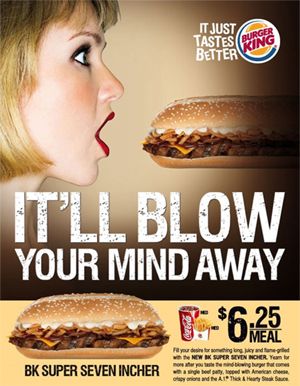 [Click to embiggen.]
Fill your desire for something long, juicy and flame-grilled with the NEW BK SUPER SEVEN INCHER. Yearn for more after you taste the mind-blowing burger that comes with a single beef patty, topped with American cheese, crispy onions and the A1 Thick & Hearty Steak Sauce.
It's hard to identify what the best part of this ad is. The appalling lack of subtlety (OPEN MOUTH: INSERT MEAT: HAR HAR!)? The globby mayonnaise suggesting cum? The human woman made up and posed to maximize a resemblance to a blow-up doll? Christ. What a clusterfucktastrophe.
I would argue that BK should be ashamed of themselves, but they clearly lack the capacity.
(H/Ts to Shakers Dave, ReedMe, Kristen from MA, Eudaimonia, and Azzy.)
[Assvertising: Parts One, Two, Three, Four, Five, Six, Seven, Eight, Nine, Ten, Eleven, Twelve, Thirteen, Fourteen, Fifteen, Sixteen, Seventeen, Eighteen, Nineteen, Twenty, Twenty-One, Twenty-Two, Twenty-Three, Twenty-Four, Twenty-Five, Twenty-Six, Twenty-Seven, Twenty-Eight, Twenty-Nine, Thirty, Thirty-One, Thirty-Two, Thirty-Three, Thirty-Four, Thirty-Five, Thirty-Six, Thirty-Seven, Thirty-Eight, Thirty-Nine, Forty, Forty-One, Forty-Two, Forty-Three, Forty-Four, Forty-Five, Forty-Six", Forty-Seven, Forty-Eight, Forty-Nine, Fifty, Fifty-One,Fifty-Two, Fifty-Three,Fifty-Four, Fifty-Five, Fifty-Six, Fifty-Seven, Fifty-Eight, Fifty-Nine, Sixty, Sixty-One, Sixty-Two, Sixty-Three, Sixty-Four, Sixty-Five, Sixty-Six, Sixty-Seven, Sixty-Eight, Sixty-Nine.]