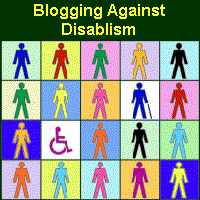 Diary of a Goldfish
is hosting Blogging Against Disablism Day (BADD) once again on May 1st, 2009. BADD is an opportunity for bloggers worldwide to raise awareness about disability discrimination. People with all kinds of disabilities or none at all are welcome to participate.
Diary of a Goldfish's complete instructions for getting involved
are here
. The bottom line:
Post a comment at Diary of a Goldfish
announcing your intent to participate. Then, let as many people as possible know about BADD in advance. Finally, get down to work:
Write a post on the subject of disability discrimination, disablism or ableism and publish it on May 1st - or as close as you are able. Podcasts, videocasts and on-line art are also welcome. You can cover any subject, specific or general, personal, social or political. In the previous three BADD, folks have written about all manner of subjects, from discrimination in education and employment, through health care, parenting, family life and relationships, as well as the interaction of disablism with racism and sexism. Every year I have been asked, so it's worth saying; the discrimination experienced by people with mental ill health is disablism, so naturally such posts are welcome too.
Diary of a Goldfish
provides
banner codes and links to BADD archives from the past three years. Check it out.
H/T to
Anna
and
Hoyden About Town