That's where this is heading, Shakers—the bloviating shitsack who spends on drugs and sex tourism the millions he makes as the conscience of conservatives will be at the top of the Republican ticket in no time, since the entire party is now held in his thrall.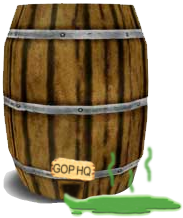 First, Georgia Representative Phil Gingrey criticized Limbaugh, only to end up on Limbaugh's show
groveling in apology
. Then, South Carolina Governor Mark Sanford obliquely
called Limbaugh an idiot
, for which Limbaugh
lambasted him on his show
, prompting a Sanford spokesperson to backpedal and claim Sanford wasn't referring to Limbaugh.
Then, this past weekend, RNC Chair Michael Steele took on Limbaugh, and the notion that he's the
de facto
head of the Republican Party,
saying
:
Rush Limbaugh is an entertainer. Rush Limbaugh's whole thing is entertainment. Yes, it is incendiary. Yes, it is ugly.
So, yesterday, Limbaugh goes off on Steele, accusing him of—ZOMG!—
wanting Obama to succeed
(the nerve!), to which Steele responded, I shit you not: "I went back at that tape and I realized words that I said weren't what I was thinking."
Steele's genuflection to his conservagod was not, however, complete:

"My intent was not to go after Rush -- I have enormous respect for Rush Limbaugh," Steele told Politico in a telephone interview. "I was maybe a little bit inarticulate ... There was no attempt on my part to diminish his voice or his leadership."

Steele told Politico he tried to call Limbaugh after the show on Monday and said he hoped he would be able to talk to the radio host soon.

…And in a written statement issued to CNN, Steele said, "To the extent that my remarks helped the Democrats in Washington to take the focus, even for one minute, off of their irresponsible expansion of government, I truly apologize."

"I respect Rush Limbaugh, he is a national conservative leader, and in no way do I want to diminish his voice," Steele said.
Wow.

On "Face the Nation" this weekend, Obama Chief-of-Staff Rahm Emanuel said Limbaugh is "the voice and the intellectual force and energy behind the Republican Party," who Republicans cannot criticize without having "to run back and apologize to him, and say they were misunderstood." And he's totally right.

It would be funny, if it weren't so goddamned dangerous.