A few days ago, and just a few days after writing
my letter of gratitude
for their unrivalled badassitude to the Golden Girls, I stumbled across this little gem on
Etsy
: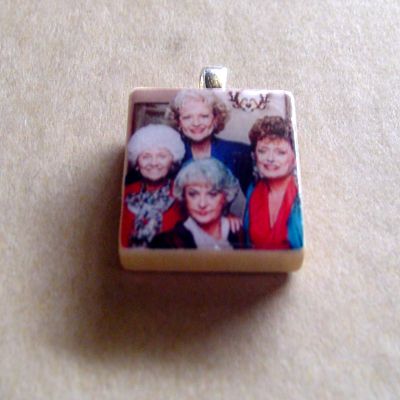 If you can't see the image, or if you're numb with disbelief, or if you've been temporarily struck with hysterical blindness (love that term) by the sheer power of gazing upon its awesomeness, it is, in fact, a picture I have taken of the just-delivered Golden Girls pendant that is now mine, all mine, my very own, my precious.
I love this thing with the power of 10,000 suns. And wait—it gets even better!
The image is secured to a Scrabble tile! For the letter G! Which is worth 2 points! So it's like two times the g-g-goodness, as in
G
olden
G
irls, bitchez!
You know you're jealous! You know you want to run out to the lanai in your caftan and your kitten-heeled slippers and throw yourself on the rattan barcalounger and down your sorrows with a Boca Breeze!
But that won't be necessary—you can
get your very own
. For a mere $6.95.