by Shaker Renee, of Womanist Musings
This month
Ebony
decided to put baby wipes Terrence Howard on the cover.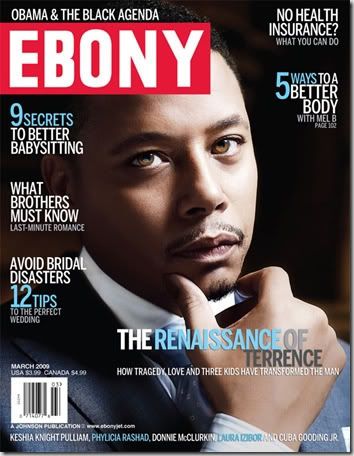 In this little spread we were meant to wonder at his ability to immerse himself in a vast array of interests, from carpentry to science. He took great care to make sure everyone learned exactly how humble he is and his willingness to embrace his fans in all settings. I wonder if he signed in autographs in jail?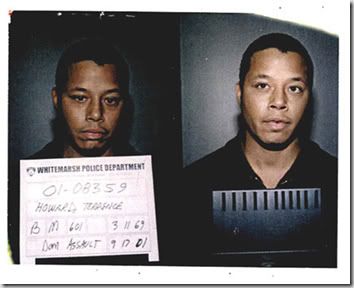 Ebony, if you are going to make a point of uplifting a black man, how about you choose one that was not arrested for physically assaulting a woman?

Police and court records show that the Hustle & Flow star, who backtracked last week on initially supportive remarks he made about Brown's situation, was arrested in 2001 in Pennsylvania on suspicion of assaulting his wife, Lori McCommas.

The duo had been estranged for more than two years when Howard, fuming after a contentious phone conversation, broke down the front door of McCommas' house, states a Whitemarsh Police Department report dated Sept. 17, 2001.

Per the report, Howard told McCommas at the end of their argument, "Don't disrespect me by hanging up on me or I'll come over and hurt you." She called 911 and, while she was talking to the dispatcher, Howard arrived and tried to get in.

He "broke the front door down and ran through the screen door in the kitchen. Howard then grabbed the victim's left arm and punched her twice with a closed fist in the left side of the face," the report states.

When confronted by police, he confessed to hitting her, according to the report, which was first obtained by The Smoking Gun.

Howard, who, according to police confessed at the scene to breaking the door and hitting his wife, was booked on suspicion of simple assault, making terroristic threats, harassment and stalking, and disorderly conduct.

He was freed from custody after posting $20,000 bail and pleaded guilty in 2002 to disorderly conduct.
This is not the kind of man that needs to be held up as a role model to anyone. Is it any wonder that when Chris Brown allegedly beat Rihanna there were scores of people asking what she did to deserve a beating? When are we going to decide that black women matter? I am tired of seeing us sacrifice so that black men can get ahead, only to witness black men use patriarchy to discipline women every opportunity they get.

This man decided that it was acceptable to punch a woman twice in the face because his feelings were hurt. What kind of message did this send his daughters and the young women that flock to see him in his films? I don't give a shit that he can use power tools, or install a new kitchen, but I do very much care about the fact that his elevation only reifies the fact that it is acceptable to physically abuse black women when they are deemed unsuitably submissive.

This magazine went to print after baby wipes made his statement in support of Chris Brown; however, the domestic violence incident happened in 2001. When we combine this with his history of sexist commentary directed at women, his elevation to the cover of Ebony is an insult to black women. If you are going to speak on behalf of black people, that should include all black people.

Often when we begin to think about uplifting black people the conversation centres on how to improve the life chances of men. Let's just be honest, we have associated progression with the emulation of white male patriarchy even though this form of social organization is particularly harmful to women. Black women are emotionally, and physically targeted if we even dare to suggest that such that this model is counter to our best interests. Our allegiance to the race is questioned.

We are expected to ignore that even though we both must deal with racism in specifically genderized ways, a black man may still return home at the end of the day and physically abuse his black wife. The social construction of the angry black woman is just as upheld in the black community as it is in the larger society. We are the eternal harridan, thus placing black women at the bottom of the race and class hierarchy.

Whiteness has always been able to offer hierarchy to blind us to the ways in which we are participating in our own marginalization. We do not focus on our issues in a communal fashion, rather black men seek to assert power coercively against black women causing us to achieve negative growth. Demanding that black women ignore the ways in which gender plays a pivotal role in our existence is asking us to choose whether we are more exploited by race or gender; effectively splitting our identities.

When the domestic violence incident became public knowledge instead of making a solid statement of solidarity many asked what Rihanna had done to trigger this kind of rage in Chris Brown. This kind of victim-blaming is only possible in a world wherein we have falsely elevated masculinity. No word that she could utter could possibly legitimize such treatment. If a black man was beaten in this fashion by the police we would be culturally enraged and yet the beating of black woman is subject to question. There is never any excuse for a man to be physically abusive with a woman.

Using brute force to restrain a woman from speaking her mind freely and demanding respect is counter to our freedom. Baby Wipes legitimized his assault on his wife because her words hurt him. WORDS. While I don't want to minimize the pain that emotional abuse can have on a person, this certainly cannot stand as justification for the elevation of the conflict by resorting to physical violence. Unlike his wife, Howard had the option to end the encounter when he felt the situation had become to much for him to handle. Choosing to lash out physically as a result of his pain, symbolized Howard's belief that masculinity is ultimately endowed with the right to lead no matter the cost.

Shame on you, Ebony. This is not a man that we should sing the praises of. He is not a positive example of our community. Black women deserve better than to view a man with a history of violence on the cover of a national magazine portrayed as a hero with the tagline of renaissance man. The rise of black people should not and cannot occur on the backs of black women.

[Cross-posted.]