[
I'm bringing this to the top of the page for a bit, because a couple people have emailed me about the story, so I suspect the post got missed over the weekend.
]
As I was
just saying
, the media has reacted to an increasing number of powerful women in politics by taking it upon itself to remind those women that success doesn't inoculate them against the demeaning misogyny all women deserve. Check out this full-tilt fuckery currently on
the front page
of
U.S. News & World Report
's "Washington Whispers" section: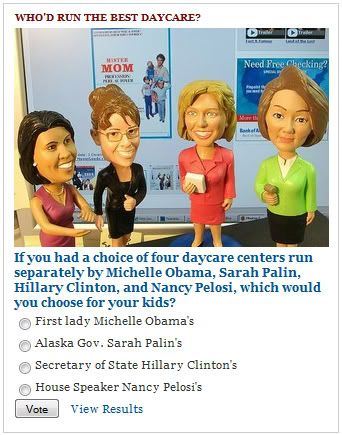 It's a poll asking readers: "If you had a choice of four daycare centers run separately by Michelle Obama, Sarah Palin, Hillary Clinton, and Nancy Pelosi, which would you choose for your kids?" And it's accompanied by an image featuring bobble-head dolls of all four women.

Contact
U.S. News & World Report
here
.
Via
Steve
, who says: "I can't imagine what
U.S. News
was thinking. Would it ever occur to them, even for a moment, to ask who would run the best daycare center: Barack Obama, John McCain, Joe Biden, or John Boehner?" Steve hat-tips
Jamison
, who notes: "And no, the poll doesn't offer the obvious fifth choice: 'Why the hell would anyone ask this question?'"