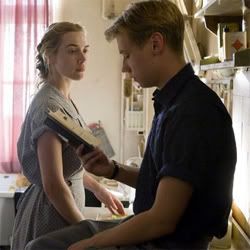 Yesterday, while most of America was watching
sexist commercials
interspersed with some sport with a ball, Iain and I went to see
The Reader
.
I have a big gay crush on Kate Winslet, and Iain has a big gay crush on Ralph Fiennes, and we both heart Stephen Daldry, so this was pretty sure to be a winner no matter what—but both of us walked out of the theater (in which we were two of four people total; yay for Schmooperbowl Sunday!) absolutely satisfied and chattering excitedly about all the ideas the film had laid across our minds.
I don't really understand the mostly lukewarm (and sometimes actively hostile) reviews, although it seems a lot of reviewers just flatly didn't get it. (Rex Reed is a
notable exception
and gives the film a very similar read to Iain's and mine.) It's not a "Holocaust movie," and it's not a "war drama," and it's not a morality tale.
It is complex and emotionally demanding, and it both challenges and indicts its viewers, but what
The Reader
is most of all is an exhortation to be
all in
.
It condemned me for the times I have stayed silent when I shouldn't have, and it begged me to consider the consequences, and it urged me to be brave and fearless, especially in moments when merely being quiet would be so damnably easy.
All in.