What part of your body is most beautiful/handsome?
"None" is not an acceptable answer. Go on and be radical and publicly love at least one part of your body!
I will be utterly boring and say my eyes, the shape of which I got from my mom and the color of which I got from my dad: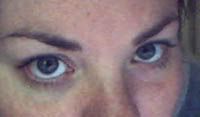 I also got my dad's brows, and if I did not spend egregious amounts of time in front of a mirror tweezing, I would have the best unibrow in all the land!
A close second is my
excessively lined hands
, which I find beautiful because they are unique.