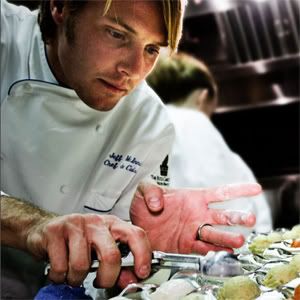 Chef Jeff McInnis is not your sex object.
I'm not going to change the way I cook because of one person's opinion. My opinion about Tom Colicchio's food is that it's extremely boring. I've been to his restaurant. His chicken dish on his menu is roasted chicken with roasted potatoes, thyme and olive oil. If I want that, I'd go to my grandmother's house.

...I think the show used me as some kind of sex object. Every single show that I've ever seen, they have me with my shirt off in the beginning — which is kind of strange. I don't run around the house naked half the time like they portrayed me. It seems like a camera was always following me around trying to find me whenever I'm taking my clothes off to change in the morning or at night. So, to be used like that is always fun.
Well,
that's
certainly the most interesting Jeff's ever been. If only he had shown this haughty, hubristic, slightly delusional side of himself on the show, maybe his knives would still be unpacked in the Top Chef kitchen.
I always knew there was some fire lurking behind that carefully-maintained anger management veneer, but see what happens when you refuse to let loose the crazy? You lose out to badly cooked veal and an Italian accent.
Lesson learned, Chef Jeff.