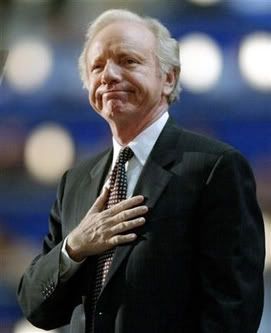 I don't give the tiniest, microscopic shit about Joe Lieberman.
I don't care that the Democrats have
decided to keep him
as head of the Homeland Security Committee. I don't care if they change their minds and kick his dumb ass out. I don't care about the very pragmatic and forbearing reasons for keeping him. I don't care about the quite reasonably vengeful reasons for booting him. I don't care if he swears to caucus with the Democrats. I don't care if he threatens to caucus with the Republicans. I don't care that he was the Democratic vice presidential nominee eight years ago. I don't care that John McCain is his new BFF. I don't care if the phrase "President Obama" makes his fucking douchebag head explode into a bajillion little douchebag pieces. I don't care that he made out with George Bush. I don't care what he thinks about Bill Clinton's inability to keep it in his pants, or what he thinks about violent video games, or what his opinions are on what I should be doing with my ladybits, because I don't care about any of the sanctimonious bullshit that's his stock in trade. I don't care if I never even hear the
name
of this oxygen-sucking assdrip again for the rest of my everloving life.
And the reason I don't care is this: Because I suspect that the only thing Joe Lieberman really cares about is himself, that his promises of allegiance are worth their weight in shit, and that nothing makes his precious pecker go harder in his wankhand at night than the two parties fighting over him like the treasure of the goddamned Sierra Madre.
He's going to do whatever the fuck he wants, anyway. Leave him to it.
Or don't. Either way, I don't care.