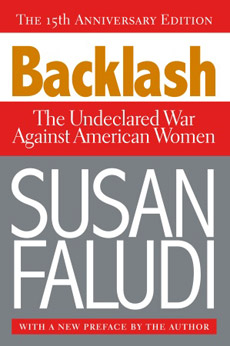 "The backlash against women is real. This is the book we need to help us understand it, to struggle through the battle fatigue, and to keep going."
—Womanist and award-winning author Alice Walker, on Susan Faludi's 1991 book
Backlash
, a landmark book in the feminist critique of "conventional wisdom," media memes, and pop science about women, and the subject of today's Sunday Book Club.
This is Week Two of our discussion of
Backlash
.
Discussion Questions (but please feel free to deviate wildly; they're just suggestions to get us started): Do you feel there are any glaring omissions in
Backlash
? Anything with which you've found yourself disagreeing?