Munch, munch, munch
:


[Screen caps and transcript for those who can't view the video, below.]
That's just a thing of beauty. You can practically hear Sinatra crooning "
I've Got You Under My Skin
" in the background.
Don't you know you fool, you never can win / Use your mentality, wake up to reality…
Is it cozy there in that
corner into which you've painted yourself
, McCain?
I positively can't
wait
to see McCain prove his "passion" and "courage" by tacitly calling Obama a terrorist on national television. Yes, show us your passion and courage—and your abysmal lack of integrity and honor, to boot. Thrill your
bloodthirsty
base
, and show every undecided voter in the nation what an ignoble scoundrel you really are. And
always have been
.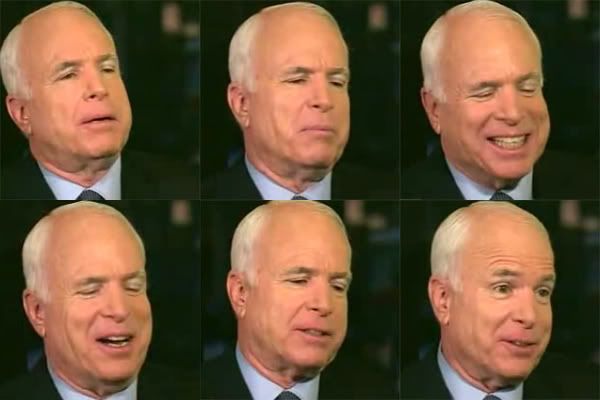 John McCain: I have every right to insist that [Obama] be candid and truthful with the American people, uh, and he needs to be asked about [his relationship to Bill Ayers] and he needs to be forthcoming.

Charlie Gibson: You didn't raise that, this argument, or line of argument, in the debate the other night, and I asked Senator Obama about that yesterday; he said, "Yeah, I'm surprised that John didn't say that to my face."

McCain: [laughs tersely] Oh, I'll be glad to—[more terse laughter]—that's a— Again, uh—two things I've never been accused of lacking in: One is passion and the other is courage. I mean, I can—I can accept a lot of the other, uh, criticisms—it didn't come up in the flow of the conversation.