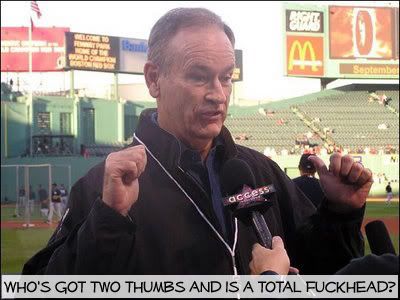 Like the eleventh plague raining down on all us Sodomites coolly lying in our Egyptian cotton sheets, Bill O'Reilly is proof that God exists.
Or so says he
:
"Next time you meet an atheist, tell him or her that you know a bold, fresh guy, a barbarian who was raised in a working-class home and retains the lessons he learned there.

"Then mention to that atheist that this guy is now watched and listened to, on a daily basis, by millions of people all over the world and, to boot, sells millions of books.

"Then, while the non-believer is digesting all that, ask him or her if they still don't believe there's a God!"
If O'Reilly is proof there is a God (and that is not something I'd concede just yet, not based on Bill's spurious logic), then I am sorely disappointed. I mean, seriously, this is it? No miracles? No loaves and fishes, no raising the dead? No stopping bullets and saving Jules? No curing the sick, no ending suffering? Just some enormous douchenozzle getting his smirking, lying mug on TV everyday?
By that logic,
Dog the Bounty Hunter
is also proof there is a God. Jim Belushi too. (I'll also concede I have no knowledge of Belushi being a douchenozzle or a liar, but still,
why the fuck
is he on TV everyday?)
The fact that a
bigoted
,
lying
,
xenophobe
like O'Reilly is being broadcast around the world is in fact proof
there is no God
. Or if there is, He's away on business.
(
Via.
)