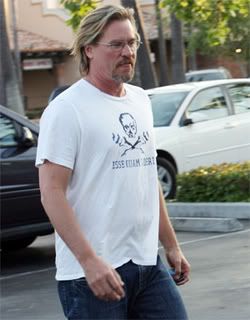 So Bill Richardson
wants
Val Kilmer to be his successor as governor of New Mexico:
"I like the idea. Val Kilmer is a New Mexican; he was Batman. You know there have been successful actors going into politics."
Yes, I
do
know! Like Ronald Reagan, for example.
Is it too much for me to hope that, a la Reagan, Val Kilmer will not only serve as a governor, but go right on to the White House? I want a President Kilmer so bad I can taste it. His secret service name would totally be POTUS
ICEMAN
, and he could finally realize my dream of changing the national anthem to "
Danger Zone
."
OMG. I'm all hot and bothered just thinking about it. My
Val Kilmer doll
is going to see some wild action tonight, bitchez!