I opened my email this morning to about two dozen emails with the subject heading "Sarah Palin Sexism Watch." Sigh.
In Good News: Heather Michon takes on the Bad Mother meme in
Sarah Palin, Now Starring In "What Kind of a Mother..."
And now the Bad News:
Bill Wolfrum forwarded
this classy piece
from the
WaPo
, in which Palin is never even mentioned by name: "John McCain will have to do better than naming Tina Fey his vice presidential choice." Fey is an unapologetic progressive and a feminist, which likely makes the flippant comparison an insult to both women. But they
look alike
! And that's all that matters when it comes to women, of course.
Shaker
Elisabeth
sent along some charming t-shirts and a bumpersticker (for which I won't provide links, but I'm sure you can find them if you really want to):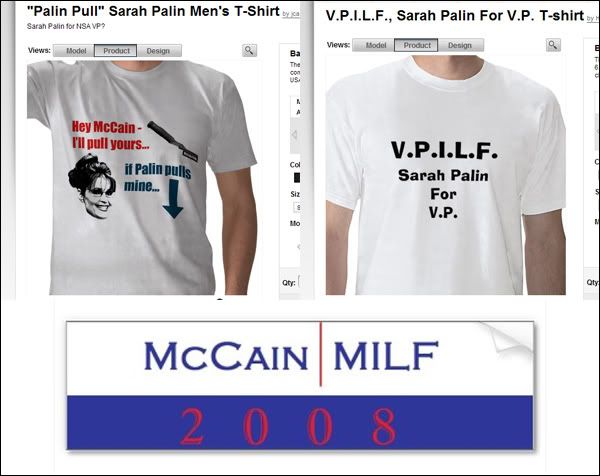 Shaker
Veronica
passes on
this catch
by Kate D. in which Yahoo/
WSJ
headlines Palin's "workout, eating habits." Says Kate: "something tells me this wouldn't be a headline on yahoo this evening if tim pawlenty had been mccain's vp pick."
Shaker Rebecca points to
this post at Wonkette
(by way of
Maru
) in which a picture of Anna Nicole Smith sitting on J. Howard Marshall's lap is offered as the new McCain-Palin campaign poster.
Shaker
Juliemania
finds another charming campaign poster
at Slog
: McCain/Trollop. I get that it's probably meant to point out that McCain is a sexist pig who reportedly
referred to his own wife as a trollop
, but that's not the way to do it. Seriously. Because too many people won't get the joke; they'll think the joke is that Palin's a trollop. Irony: FAIL.
More to come, I'm sure. Sigh.
[Sarah Palin Sexism Watch: Parts
One
,
Two
,
Three
. We defend Sarah Palin against misogynist smears not because we endorse her or her politics, but because that's
how feminism works
.]