"She was enormous, and now she's foxy."
—
Meg Ryan
, on her character in the upcoming movie
My Mom's Hot Boyfriend
, in which Ryan dons a fat suit for part of the film. (The part
without
the boyfriend, natch.)
Says Shaker Jenn, who sent along the article: "WTF?! Way to suck even more, MR! Is this her way of finally stepping outside of her tired-ass, 'quirky girl in need of saving' role? Pathetic."
Even more than the quote, I love the screen cap from the film: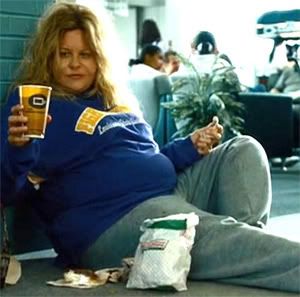 lol your fat
LOLOLOL! Yes, that's how all of us fat chicks spend our days—slumped despondently against a wall, our hair a mess, surrounded by fast food, and clad in ill-fitting sweats.
Note to Meg Ryan, cc'ed to the rest of Hollywood: Fat and foxy are not mutually exclusive concepts. Also, there are stylish clothes made to suit our bodies, which many of us wear. We even comb our hair and everything!
Some of us even have hot boyfriends. Or girlfriends. Or both.
Pfft.