The
Fat Princess thread
has proven enormously amusing, as the fat-hating, homophobic, misogynist dancing monkeys have boogied to the sound of my organ grinding [insert your own double entendre here] without a hint of irony or self-awareness all day, but my email has been providing me with lots of treats, too. This one was too good not to share: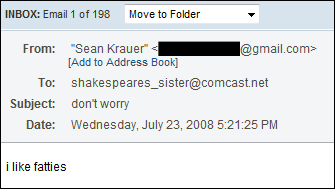 Thanks, Sean. Not only was I enormously worried, but I totally give a shit what you think—so your email came just in time.
And I'll be sure to pass on the good word to my husband, too.