by Paul McAleer, founder of
Big Fat Blog
Having my jaw drop while watching TV is now a common experience. A few nights ago we were watching something or other and fast-forwarding through the commercials. We caught up with live TV and then saw an interesting ad.
It started with a fat man and his kid goofing around, doing karate moves. The little
boy
girl is running around being active, and the dad is sitting in place... but both look happy and, uh, really happy! With a voiceover we get text on the screen: "I want" with a blank line after it. Written in a script font on the blank, "to do karate with my little warrior."
We cut to another scene. A fat girl
dancing
around a room with her boyfriend. They're cute! They're a real couple! Amazing! Voiceover and text: "I dream of kissing him under the Eiffel Tower."
And then the fucking bomb drops.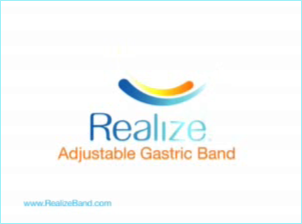 I'm telling you, I was blown away. Totally blown away. (You can be too!)

We also see a fat woman doing a walk-and-talk with her doctor. I imagine the conversation, if it happened in the real world, would go something like this:

Woman: "So, I notice the chairs in your waiting room have arms."Doctor: "That's right, they do."Woman: "They squish my sides every time I come in."Doctor: "Obviously you need the Realize™©® Adjustable Gastric Lap-Band!"Woman: "But I was here for a cold."

Plus there are screenshots of their website which allows you to graph your weight loss and pulls out My Virtual Model so you can visualize what you'd look like if you somehow became narrower while having an odd look on your face and your arms frozen in a mid-stride pose. Note that the graph shown is multi-year... clever, subtle marketing there.

At the closing, over the warnings, we do get to see our dad and kid again as well as the couple. It's so frustrating because, well, look! Even there, they're happy. Well... not the woman with her doctor. She's engaged in her health, you see.

If this isn't another co-opting of our language I'm not sure what is. The number of stereotypes that get reinforced just in this commercial are stunning and fully reach over to the sexism side of the fence, too.

I'll save the latest Subway ad for another time. This one was really, really bad.

(Cross-posted.)