Pin
being sold
at the Texas State Republican Convention: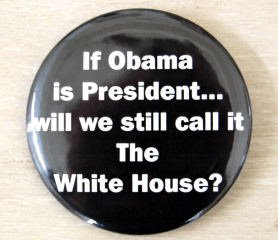 Pathetically, this isn't even the first time I've had occasion to write about this hee-larious "joke"—I posted about a guy who made the same dumbass comment at the Citizen of the West banquet
back in January
.
Aside from being racist, that shit's just made of hack. Who thinks that's funny?!
Between the "Black House" jokes and the stuffed monkey toys, I'm beginning to think the race-based opposition to Obama is being run by a mad three-year-old.
Although, that's probably an insult to three-year-olds, some of whom undoubtedly have more sophisticated senses of humor.
[H/T to Oddjob, who hat tips
Radical Russ
.]