International Edition! Wheeeeeeeeee!
From the Sydney Morning Herald: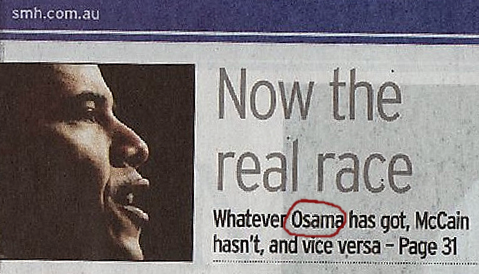 Tomato, tomahto, Obama, Osama…let's call the whole thing off!
Lauredhel, who gets
the hat tip
, notes that the SMH is not alone in confusing the Democratic nominee with an international terrorist: "Looks like it's not just
Fox News' Liz Trotta
,
Fox Chairman and CEO Roger Ailes
,
CNN
,
Rush Limbaugh
,
Mitt Romney
, and
AP Chairman W. Dean Singleton
." Oy.
[Obama Racism/Muslim/Unpatriotic/Scary Black Dude Watch: Parts
One
,
Two
,
Three
,
Four
,
Five
,
Six
,
Seven
,
Eight
,
Nine
,
Ten
,
Eleven
,
Twelve
,
Thirteen
,
Fourteen
,
Fifteen
,
Sixteen
,
Seventeen
,
Eighteen
,
Nineteen
,
Twenty
,
Twenty-One
,
Twenty-Two
,
Twenty-Three
,
Twenty-Four
,
Twenty-Five
,
Twenty-Six
,
Twenty-Seven
,
Twenty-Eight
,
Twenty-Nine
,
Thirty
,
Thirty-One
,
Thirty-Two
,
Thirty-Three
,
Thirty-Four
,
Thirty-Five
,
Thirty-Six
,
Thirty-Seven
,
Thirty-Eight
,
Thirty-Nine
,
Forty
,
Forty-One
,
Forty-Two
,
Forty-Three
,
Forty-Four
,
Forty-Five
,
Forty-Six
.]