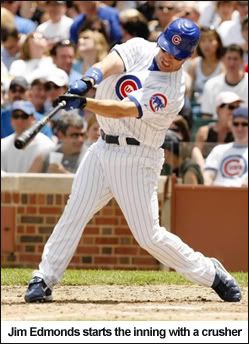 This past weekend was round one of the annual Crosstown Classic in Chicago, when the Cubs (North side) and White Sox (South side) meet for two three-game series in a massive battle for serious bragging rights. Going into this year's Crosstown Classic, both teams were leading their divisions, making it a particularly vicious meeting. The first round was at Wrigley, giving the Cubs a home-field advantage—which they exploited as handily as they did the usual
managerial errors
one can expect from the Sox.
The Cubs took all three games in the end, with one of the most spectacular innings of baseball I've ever seen during Game Two—a
nine run
inning that started 4-1 Sox, in which Jim Edmonds and Mike Fontenot homered on consecutive pitches from Jose Contreras (4-3), Ryan Theriot walked, Jason Marquis singled, Kosuke Fukudome, Eric Patterson, and Derrek Lee all nailed RBI singles (6-4 Cubs), Aramis Ramiriez blew a three-run homer to left (9-4), and, after a pitching change, Edmonds came up to bat and grabbed a line-drive homer to left off of Sox reliever Boone Logan before the inning ended 10-4 Cubs.
But this post isn't really about baseball.
The truth is, while I'm a Cubs fan because I love their underdoggity goodness and because I adore Wrigley Field and because I was a resident North-sider for a decade, I grew up in NW Indiana where most everyone—including my dad—is a Sox fan, and I don't really have any genuine animosity for the Sox, even though I was rooting against them Big Time in the Crosstown Classic, and there was a "Hey, how'd ya like that inning?" phone call delivered to Papa Shakes after the nine-run fabulon. ("I'm not livid, but I'm not happy," he told Iain, who placed the call.)

But I do have genuine animosity for Sox Manager Ozzie Guillén.

Ozzie, besides being a bad manager (although not a terrible one) and a jerk who trashtalks his former (and sometimes current) players and orders his pitchers to hit batters (and laments that they ignore him), is a homophobe and a sexist. Every time I see him interviewed, every time he opens his mouth, something homophobic and/or misogynistic comes out of it—this player's a bitch, that player's not a real man, the Sox are treated like bitches by the media, etc. etc. etc. I positively loathe the guy, because he is just the absolute antithesis of a good sportsperson.

So I can't even tell you how much I loved watching the Cubs trounce the Sox last weekend—because they kept cutting to the Blizzard of Oz in the dugout, with a face like absolute thunder.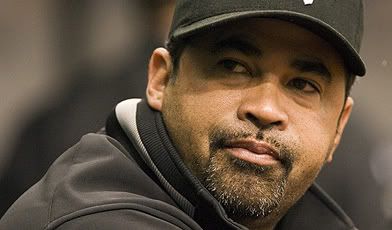 And the more miserable he looked, the happier I felt.

"Suck it, homophobe!" I yelled at the TV, and gave Ozzie the double-barreled bird, while Iain laughed uproariously at my antics, every time another shot of Ozzie appeared on the screen. "Your blow-up dolls will bring you cold comfort while you're crying yourself to sleep tonight, loser!"

I'm not of the "winning isn't everything; it's the only thing" school of thought when it comes to sports. I can enjoy a game (if admittedly less so) even when the Cubbies lose.

But winning against Ozzie? That's something special. That's magic.

The thing about Ozzie is that he's impervious to teaspoons. He just doesn't have the slightest interest in not offending people, or the slightest concern that he does. Even when it's been explained to him that he's wrong, that he's been hurtful, even when he's forced to apologize, he'll inevitably later say that he didn't think he should have had to, and didn't see what all the fuss was about. Real men, he explains, don't apologize.

Teaspoons haven't worked. So bats will have to do.

Dear Maude, I hope we kick his ass at Comiskey.